BHP Billiton is planning to develop a $20 billion outer-harbour project at Port Hedland and expand production beyond its current annual run rate target of 270 million tonnes, as it looks to close the gap on iron ore rival Rio Tinto on margin per tonne within the next few years.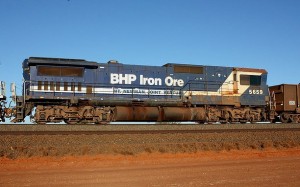 BHP President of iron ore Jimmy Wilson told the Sydney Morning Herald that the company was aiming to close the gap on Rio and compete on the cost of production side and the margin per tonne front, which currently stands at US$51 a tonne for BHP against Rio's US$45 a tonne.
"While we are marginally behind Rio at the moment, we've got to back the fact that we are going to eliminate that gap in the foreseeable future. What is the foreseeable future? I'd be disappointed if it took more than a couple of years," he said.
"I do respect our competitors — Rio, Fortescue, Vale — [and] none of them is standing still either. So, I think, at the end of the day, you are going to see an improvement come through for all of those businesses."
Deutsche Bank mining analyst Paul Young said the two miners were pretty even in most key cost-of-production metrics but noted a US$10-a-tonne differential in so-called C1 costs, which refer to the basic production costs excluding one-time charges; such as royalties, depreciation or exploration costs.
"I don't think they can fully close the gap but I think they can reduce the gap by at least half, or about US$5 a tonne," Mr Young said.
Rio is tipping current full-year production of 295 million tonnes, whereas BHP is still a long way from reaching its annual run rate target of 270 million tonnes. BHP have achieved production of 217 million tonnes of ore for the financial year that has just ended — up from 187 million tonnes in 2012–13.
To raise production beyond its set target of 270 million tonnes a year, BHP will need either to tap options for two additional berths in the inner harbour in Port Hedland in a US$600 million to US$800 million development or resurrect the $20 billion outer harbour project. The company is leaning towards the latter.
"We want to max out the inner harbour, then we'll go to the outer harbour," Mr Wilson said.
"[But] putting additional capacity into the inner harbour is quite unlikely."