Australian Solar Designs Pty Ltd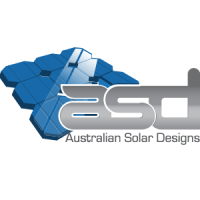 Business Name:
Australian Solar Designs Pty Ltd
Brief Description:
PART OF THE #1 SOLAR GROUP IN AUSTRALIA BY VOLUME

Australian Solar Designs (ASD) specialize in the design and installation of Solar Power for Commercial Properties. We are part of Australia's largest vertically integrated solar group by volume.

Solar provides immediate savings and excellent protection against constant energy price rises. ASD helps you explore whether solar makes sense for your business to reduce ongoing electricity costs.
Business Description:
Australian Solar Designs Pty Ltd (ASD) was established in 2009 and is run by a team of industry professionals with vast solar experience and a passion for contributing to Australia's Clean Energy Future. ASD is part of the National Solar Energy Group with a strong Balance Sheet and impressive Financial Accounts.
ASD is focused on providing cost-effective, optimized solar solutions to clients ranging from small commercial businesses to the largest commercial, industrial and government organizations across Australia.
In 2009 the Solar Industry was booming with the value of the Government incentives at its highest. ASD has seen many industry highs and lows and has survived Feed-in Tariff changes and rebate decreases and remains a strong market player.
In this time, ASD has been selected as a preferred supplier by many companies and government organizations including the ACT Government.
To date, ASD has completed over 4,000 Solar Photovoltaic installations including multiple large commercial installations across the country. ASD was selected in 2014 as the exclusive installer for Solar PV systems under the ACT Solar School Program (a Government Grant Program). Through this program, ASD installed and commissioned solar PV Systems on 22 schools throughout the ACT.
ASD has installed commercial-scale solar systems on numerous NSW Health Hospitals, Schools, Councils, Aged Care providers, Hotels and commercial and industrial premises.
THROUGH GROWTH AND DEMAND, ASD IS NOW HEAVILY BASED IN NSW, VIC, ACT, AND QLD, AND OUR SERVICES EXTEND AUSTRALIA WIDE.