Clear Reception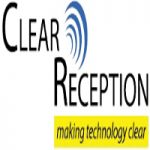 Business Name:
Clear Reception
Brief Description:
Clear Reception deals with installations, upgrades and Repairs with TV reception issues, Internet Home office, Wireless and Computer Networking problems.
Business Description:
Clear Reception is Filed service Technology Company. We offer services in the installations, Repairs and upgrades in a range of different technology fields and solve variety of problems for customers. We offer solutions for the following areas:
-TV Antenna's and Reception Problems,
– Satellite TV issues
– Telecommunications and Data Network cabling for Home or Office
– Computer Networking and Wireless Equipment installations and exspansion
– Internet and Equipment configuration
– Mobile phone antennas and better coverage solutions
– CCTv installations and repairs
– Home media Distribution systems (making your home data friendly)
– Sonos Speaker setup and configuration.
Products:
Tv and Satellite TV equipment – Antenna's, Satellite Dish's, Splitters, Mulit switch's, LnB's, Amplfiers, Set Top Box's., Poles and Connectors
Network Switch's, ADSL Modems, Wireless Routers, Wireless Access Points, Power Line Products, Wireless Bridges ad Repeaters, Network cables and Wall sockets.
Mobile Phone antennas, Connectors cables, Mobile phone Repeaters.
CCTv cameras, DVR's, NVR's, Cables and Connectors