Australian auto manufacturer Byron Group will open a new automotive manufacturing plant at Smithsfield in Western Sydney next week.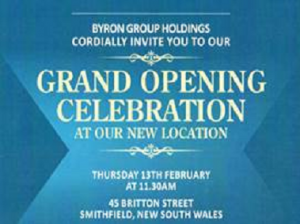 Byron Group is Australia's largest designer, manufacturer and exporter of ambulances and is also a supplier to the Australian Defence Force, as well as to the aviation industry, disability support services sector and mining industry.
Established in 1963 by Robert and Fred Byron, the company has grown from strength to strength, forging relationships with companies and organizations such as Qantas, America's Cup and the Olympics.
The new 18,000 square metre multi-purpose manufacturing plant will be officially opened next Thursday, 13 February 2014, at 11:45am at 45 Britton Street.
For further information, please contact Daniel Dew on 0429 006 976 or 8262 8907.