World leading provider of 3D printing centric design-to-manufacturing solutions 3D Systems has announced a new webinar titled "Metal Technology, Inc and English Racing Push the Envelope with Direct Metal Printing from 3D Systems", scheduled for today, 22 July 2014, at 11am Eastern Daylight Time.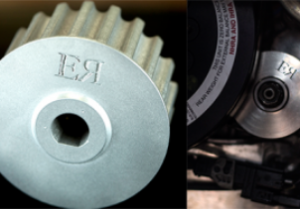 According to the press release by 3D Systems, all attendees at the webinar will be able to learn how technicians from English Racing and engineers from Metal Technology (MTI) rapidly transformed an idea into reality by 3D printing it in 17–4 PH Stainless Steel and installing it on a vehicle's engine, thus, making the vehicle successful in track testing just 3 days later.
Washington-based English Racing has employed 3D printing to overcome numerous setbacks and limitations. The company tunes and races high-performance cars.
"Prior to 3D printed metal components, the costs of designing and fabricating 'one-off' or small lots of parts or components was prohibitive in most cases," said Gary Cosmer, CEO of MTI.
"3D printing also opens up a whole new way of engineering components that are lighter and perform better, because there is no limit on complexity. Engineers can design exactly the component they need, without worrying about whether it's possible to manufacture it.  The ProX 300 prints parts that are impossible to make any other way."
English Racing turned to MTI for help in overcoming the team's Mitsubishi Evo exceeding oil pressure limitations at high RPMs; MTI 3D printed their innovative oil pump pulley in just 5 hours.
"We had been successfully running the car on the track and we thought we might have a car that would put us in the winner's circle" said Zach Morgan, Technician & Tuner for the English Racing Team.
"When we got first place in the Sedan Class at 184.9 miles per hour, we were stoked. The re-engineered part, printed quickly and easily in metal, is truly a winner for us."
Register for access to the live event or a recording at: https://www2.gotomeeting.com/register/367146626
Watch the video of the process used by MTI below.