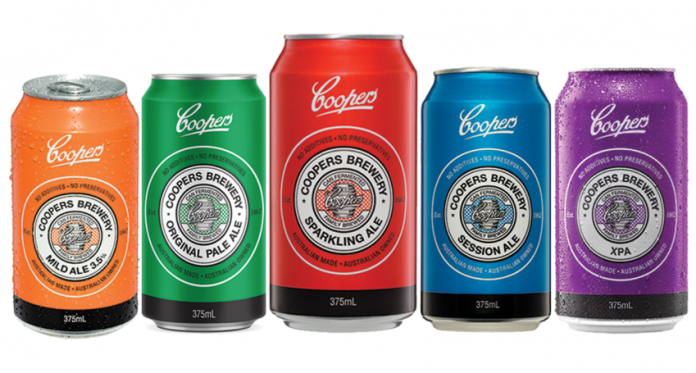 Media Release
One of Australia's oldest and most celebrated ales will break with a 157-year bottled tradition this month when it is sold in cans for the first time.
Coopers Brewery says the packaging change for its Sparkling Ale has been brought on by a surge in demand for cans sparked by the booming craft beer sector.
The South Australian family-owned brewery will release its Sparkling Ale in bright red 375ml cans in mid-August to coincide with the canned release of its new XPA, which has been available on tap in selected outlets since March.
It will bring the number of canned ales in the Coopers line-up to five and comes almost exactly a year after the release of its flagship Original Pale Ale in cans.
Coopers Marketing and Innovation Director Cam Pearce said the can format for crafted beer was increasingly popular.
"Every year, the Great Australasian Beer Spectacular (GABS) event goes out to beer lovers with the GABS Hottest 100 Aussie Craft Beer survey," he said.
"The results from May this year, with a record 31,000 people casting votes, was that 77 of the Top 100 beers in the survey were available in cans, compared with only four in 2014.
"Coopers Original Pale Ale, Session Ale and Coopers Sparkling Ale all made the Top 100."
Pearce said a preference for cans was no longer driven by occasion only but were the first for many beer drinkers, particularly craft beer lovers.
"Since we launched Coopers Original Pale Ale in cans, there has been a groundswell from consumers for the release of Sparkling Ale in cans as well," he said.
"We listened to the calls and have responded accordingly."
Coopers is the largest Australian-owned brewery and is based in the Adelaide suburb of Regency Park.
First produced in 1862 and made almost continuously for more than 150 years, Sparkling Ale stood alone in the category for almost a century as Australian brewers became obsessed with lagers.
The 5.8 per cent ABV beer is widely considered to be the founder of the Australian Ale style and continues to be a favourite, winning the Most Outstanding Beer in Show Trophy at last year's Royal Adelaide Beer & Cider Awards.
Coopers Sparkling Ale is made from barley grown and malted in South Australia and Australian grown Pride of Ringwood hops. The traditional methods such as bottle conditioning and natural carbonation have hardly changed since 1862.
Sparkling Ale and XPA join Coopers Original Pale Ale, Session Ale and Mild Ale in cans. Coopers Stout, Celebration Ale and its seasonal release Vintage Ale will continue to be only available on tap and in bottles.
But the die-hards needn't panic. Coopers Sparkling Ale is still also available in the traditional brown bottles.
---
A version of this story first appeared in The Lead South Australia.
Source: http://theleadsouthaustralia.com.au/industries/manufacturing/coopers-to-can-australias-original-sparkling-ale/