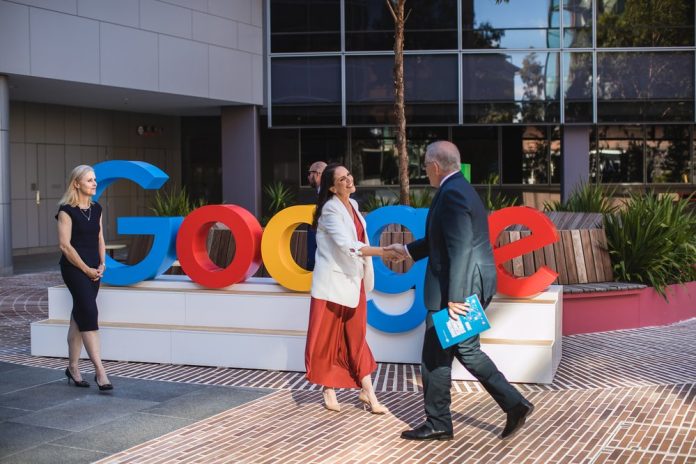 Google Australia has announced a $1 billion Digital Future Initiative investing in Australian infrastructure, research and partnerships.
Aimed at accelerating Australia's progress to becoming a leading digital economy, it is projected to support 6,529 new direct jobs and 28,057 total jobs across Australia.
Ir is also expected to deliver $1.259 billion in direct investment and $6.716 billion in total economic impact.
After nearly twenty years in Australia and a staff of nearly 2,000 across the country, Google will also be officially launching its new expanded Sydney office, in Pyrmont.
This will be Google Australia's third Sydney office. The company also intends to open a fourth office in Sydney, expected to be completed at the start of 2024.
The Digital Future Initiative was launched by Australian Prime Minister Scott Morrison, Google CEO Sundar Pichai, Google Australia & New Zealand Managing Director Mel Silva, CSIRO Chief Executive Dr Larry Marshall and Chargé d'Affaires Michael Goldman from the US Embassy at the opening of Google's expanded Sydney office.
According to Mel Silva, Google Australia MD, the Digital Future Initiative will be focused on bringing significant technology resources and capabilities to Australia as well as investments in key infrastructure.
"Building Australia's digital future starts with having the right foundation for growth. From new cloud regions here in Australia to high-bandwidth and connectivity, every aspect of our infrastructure investment is a strong reflection of our commitment to help businesses scale, innovate faster and bring their ideas to life," said Alister Dias – Vice President, Google Cloud, Australia & New Zealand.
"CSIRO solves Australia's greatest challenges through innovative science and technology, but our partnerships with industry are what makes those solutions real – because when industry innovates Australia grows," added Dr Larry Marshall – Chief Executive, CSIRO.
"CSIRO's science makes life better for every Australian, and when amplified by Google's Technology it will catalyse collaborative projects across our entire national innovation system, driving opportunity for businesses of all sizes across every market."
Image credit: https://blog.google/intl/en-au/company-news/outreach-initiatives/digital-future-initiative/