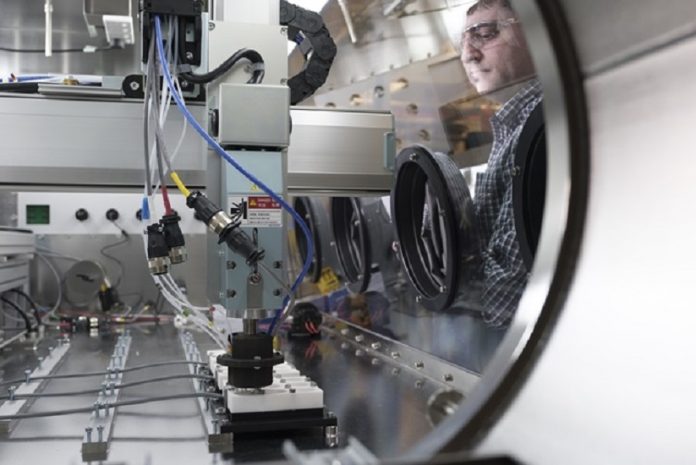 CSIRO has partnered with Japanese specialist chemical manufacturer, Piotrek, to develop the next generation of lithium battery technologies for portable electronic devices, drones and automotive vehicles.
The partnership will utilize CSIRO's proprietary RAFT (Reversible Addition-Fragmentation chain Transfer) polymer technology and Piotrek's Ion Conducting Polymers (ICP) to develop the next generation of solid state batteries that have twice as much energy than today's lithium battery technologies.
General Manager at Piotrek, Mr Ihei Sada, said the partnership with CSIRO would give his company 'a big market advantage' over its competitors.
"This partnership will help Piotrek make our batteries safer and more efficient, and with our industry reach, we will get our advanced batteries to the market faster," Mr Sada said.
"Together we will develop the world's safest, longer life solid state high energy battery."
CSIRO Battery Research Leader, Dr Adam Best, said solid state battery enabled devices are expected to hit the market by 2025, if not sooner.
"Our RAFT technology allows us to tune our SPEs' properties to expand their versatility for different types of batteries and fuel cells, and will also significantly reduce the cost of device assembly and manufacture," Dr Best said.
CSIRO's Dr John Chiefari – a co-inventor and co-developer of the RAFT polymer technology – said the collaboration would fast- track the development of an SPE for use in high energy (4.5-5V) Lithium batteries for electric vehicles and drones.
"By developing and exploiting disruptive technology platforms, we're supporting the creation of new businesses and industries for Australia and the world," Dr Chiefari said.
"This development will underpin the growth of high energy batteries for the electric vehicle market," he said.
In addition to developing the next generation of lithium battery technologies, CSIRO is also working with Piotrek to automate electrolyte processes using robots, and to license a new electrolyte recipe.
Image credit: https://www.csiro.au