Workers at Ford's Geelong and Broadmeadows plants are facing 300 job cuts come June as the car maker prepares to cease local manufacturing from October 2016.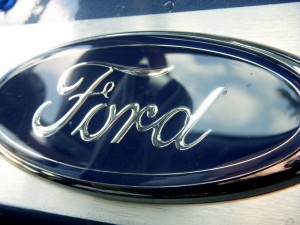 The company briefed union representatives and its manufacturing team on Thursday morning.
"We are continuing to match production with demand and that will mean we are reducing production by about a third in June with related job losses,"  Wes Sherwood, Ford Australia director of communications told reporters.
According to a report on The Australian, Ford cited the decline in sales of large cars as the cause of the redundancies.
"We'll continue to work with the teams to get into the exact details but it will be about 300," added Mr Sherwood.
He said the exact numbers of employees that will be cut from each site were still being worked out. Ford Australia has 1500 salaried employees including 1000 engineers, in addition to 1000 current manufacturing positions.
The announcement has raised fears that the company will shut down its operations sooner than expected.
In May 2013 Ford Australia announced that it plans to quit manufacturing in its two Australian plants by 2016, blaming the strong Australian dollar and high costs of operating for the decision.
Prime Minister Tony Abbott is being pressured by unions and opposition leaders to take immediate action on the issue.
"The federal government has to stop this ideologically driven position that it is carrying on with, that it won't support industry," said Australia Manufacturing Workers Union vehicles division national secretary Dave Smith.
"It needs to come out, it needs to support Toyota, it needs to support the supply chain in Victoria, it needs to ensure that the 30,000 jobs in Victoria that rely on the automotive industry are maintained."
Meanwhile Opposition leader Bill Shorten said the Abbott government has surrendered in keeping the manufacturing industry and its jobs alive.
"I know that we can't keep every job here, I live in the real world, but what I don't accept is the government of Australia saying 'we're not even going to try fighting for Australian jobs and Australian manufacturing'," Mr Shorten said.
Mr Abbott says the news is "deeply regrettable" but the public should be looking at the whole employment picture and not just one dimension of it.
"The government's job, though, is to ensure that the overall economy is strong and the right conditions are in place for employment to expand," Mr Abbott said.
The news about the redundancies at Ford come less than a week after the Australian Productivity Commission called for all government subsidies to car makers to end by 2020.
The decision to end government aid means Toyota, which remains to be the only global automaker committed to Australia, will not be receiving any financial assistant by the end of the decade. Ford and Holden have announced that they will cease manufacturing operations in Australia by 2016 and 2017 respectively, and Toyota is set to decide on the production of the next generation Camry by this year.