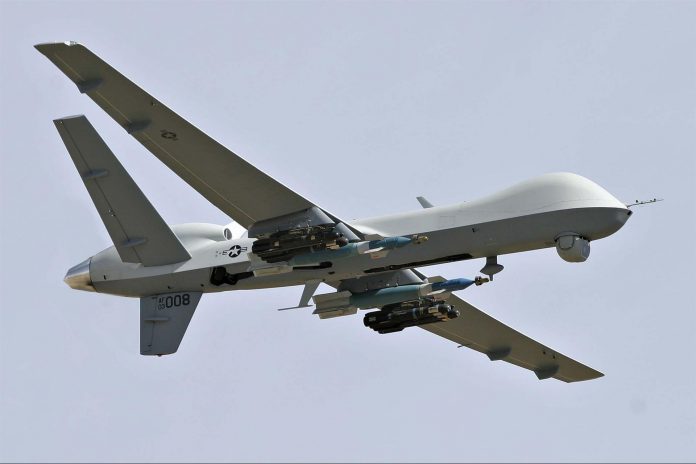 General Atomics Aeronautical Systems (GA-ASI) has been selected by the Australian Government to provide Armed Remotely Piloted Aircraft System (RPAS) for the Australian Defence Force (ADF).
Minister Pyne said the company's MQ-9 Reaper variant best meets the capability requirements for Australia's first armed remotely piloted aircraft system, adding that the medium altitude long endurance aircraft would be fully interoperable with the country's allies.
"These new aircraft will provide enhanced firepower and intelligence, surveillance and reconnaissance support to a range of missions," Minister Pyne said.
"Medium altitude, long endurance, remotely piloted aircraft have a far greater range than smaller remotely piloted aircraft and can continuously observe an area of interest for much longer than manned reconnaissance aircraft."
The aircraft, which hails from a family of RPAS which recently surpassed five million flight hours, will be used to watch and protect ADF and coalition land forces, and provide reconnaissance support for search and rescue, humanitarian assistance and disaster relief operations.
"Remotely piloted aircraft allow military commanders to make more informed decisions faster whilst providing the option to conduct strike and reconnaissance operations without risking the safety of aircrew," Mr Pyne continued.
"The aircraft will be operated under the same laws of armed conflict, international human rights law and rules of engagement as manned aircraft."
Defence Industry Minister Ciobo said the project provides opportunities for Australian industry with associated infrastructure development and sustainment activities.
"General Atomics, as the original equipment manufacturer of the Reaper, has partnered with a large number of Australian companies who provide a range of innovative sensor, communication, manufacturing and life-cycle support capabilities," Minister Ciobo said.
"This is a great opportunity for Australian industry and demonstrates Australia's world-class capability to support cutting-edge technologies."
GA-ASI CEO Linden Blue said the company is looking forward to providing its world-leading RPAS to meet ADF's requirements.
"We'll work closely with Team Reaper® Australia partners to provide a highly capable and affordable RPAS to the ADF, while creating meaningful and enduring Australian jobs," Mr Blue concluded.
Image credit: http://www.ga-asi.com