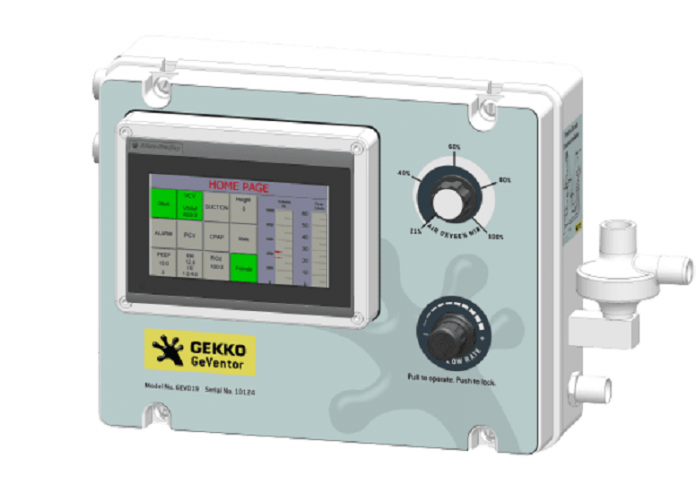 Award-winning mining manufacturer Gekko Systems has launched a new medical technology start-up in Ballarat in response to the ventilator shortages in Australian hospitals caused by the COVID-19 pandemic.
Dubbed "Gekko Medical", the start-up received permission this week to produce the affordable "GeVentor" ventilator for COVID-19 patients.
The 'GeVentor' is a simple, robust, and reliable ventilator that can be operated using batteries and an oxygen bottle, making it ideal for more remote and regional health centres.
Due to its affordability and transportability, the GeVentor has attracted interest from humanitarian organisations that aim to supply ventilators to developing countries, while the Victorian Government has already announced an order for 170 of the units, which will be among the first to go into production.
Gekko Group technical director Sandy Gray – who developed the prototype in collaboration with Ballarat anaesthetist Doug Paxton – said the company plans to draw on its success with the ventilators to develop other electronic medical equipment, and to be part of a medical technology hub in Ballarat.
"There are a lot of synergies between the production of mining and medical equipment, and the COVID-19 pandemic made us realise that we had the expertise and capability to produce this equipment that was desperately needed by the health profession and the wider community," Mr Gray said.
"Innovation often occurs out of necessity, and so it was the perfect time to expand our business to cater to the demand for high-quality and reliable medical equipment."
"It is a big success story for Ballarat and regional Victoria, resulting from a collaboration between local medical and manufacturing experts, with the support of the community."
Committee for Ballarat CEO Michael Poulton noted that the development of GeVentor was assisted by a Victorian government grant and support from the Ballarat community.
"The GeVentor is complimentary to an ICU grade hospital ventilator and demonstrates just what is possible when innovation, expertise, enterprise and determination all come together," Mr Poulton continued.
"Committee for Ballarat is proud to be associated with Gekko Systems and congratulate them on their remarkable development."
The first unit is expected to roll off the production line within 4-5 weeks.
Image credit: http://www.gekkomedical.com/