Green Planet Grass, an Australian-owned business which provides artificial grass to the Perth area, has become the latest Aussie company to endorse the Australian Made and Owned campaign which is aimed at promoting country-of-origin branding as a vital part of every Australian business "tool kit".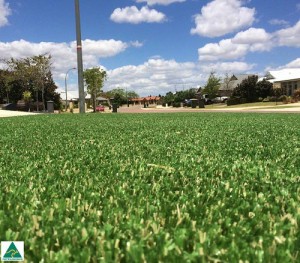 Green Planet Grass' Director, Mr Justin Everley, has recently published a post on the company's blog in which he explains why he is such a strong supporter of the Australian Made and Owned campaign.
"When you choose Green Planet Grass to provide an artificial lawn for your Perth area home, you will know that you are doing business with a company that is Australian owned and that your artificial grass is Australian made. How will you know? By the Australian Made and Owned logo on our website and certification in our office," Mr Everley says.
"We are proud to display the Australian Made and Owned logo because we are proud to be an Australian business that makes our product right here in the country. The Australian Made and Owned logo has 98% recognition within our country. It also brings awareness of Australia to those in other countries who buy our exports that display the logo. The logo is the centre of a campaign to raise awareness and to promote Australian products and workmanship to the rest of the world."
Mr Everley highlights the world class quality of Australian produce and urges consumers to buy Aussie goods and support the local economy. In listing the benefits of purchasing local products, he also points out that Australia companies are able to provide much better customer service than overseas companies.
"The company that created the product is usually a phone call away and are often nearby. This makes it easier to have warranty work done on a product or to replace it. It also makes spare parts easier to obtain. In addition, locally-sourced products have not been forced to withstand the rigours and wear and tear of transport from halfway across the world," he says.
"When a consumer buys Australian made products from Australian owned businesses, it benefits the national economy. According to a 2008 study performed by the Industry Capability Network, Every $1 million spent on Australian products adds $985,000 of value to the Australian economy. In addition, it generates $333,900 in tax revenue and saves $95,000 in welfare benefits while creating an estimate ten full time jobs."
Mr Everley proudly displays his "Australian Made and Owned" logo prominently on his website and certificates in the company showroom. He says his company is committed to making their part of the world a better place than they found it.
Green Planet Grass manufactures and installs artificial grass. Their office and showroom are in the Perth suburb of Malaga. They manufacture a full line of synthetic grass products for residential, commercial, industrial and sport applications.