General Motors Co has made it clear that it has not yet reached a decision on the future of Holden's Australian operations, prompting the Federal Government to demand that the US automaker clarify its plans.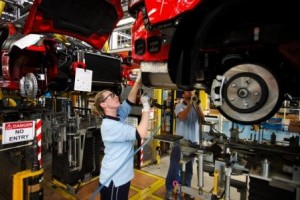 Speaking at the Productivity Commission inquiry on Tuesday, Holden Managing Director Mike Devereux said "No decision has been made," when asked directly whether they have made up their mind about their Australia business.
Mr Devereux also took the opportunity before the panel to say that GM would need more assistance from the Australian Government to survive.
"We need a public-private partnership over the long term to be relatively competitive," he said, quoted in a Reuters report.
According to a related article on The Guardian, Mr Devereux also refused to comment on the timeline for GM to make a decision but said the company had put a business case to industry minister Ian Macfarlane and South Australian premier Jay Weatherill which set out Holden's future plans.
The Holden boss also declined to reveal information that was commercial in confidence in public hearings and said both sides of politics, including prime ministers and treasurers, know exactly the amount of assistance that the company is seeking based on the business plan that they have communicated to the former Labor government and the present Abbott government.
"There's no doubt in my mind that the government has the information to answer your question [how much assistance would be needed]," he said at the inquiry.
"The budgetary cost of losing this industry would dwarf the cost of keeping it."
Acting Prime Minister Warren Truss, standing in for Tony Abbott who is attending Nelson Mandela's memorial in South Africa, has criticised the lack of commitment from Holden in a letter to Devereux released to the media.
"Your comments merely confirmed that a decision to end manufacturing in Australia remains a live option and has not been ruled out," Mr Truss said.
"It is the Australian government's view that GM Holden must immediately provide a clear explanation of its future intentions and explain what its plans are for its Australian manufacturing operations."
Truss said the Federal government had already provided more than a billion dollars in support to the auto industry in recent years and had committed to a further A$1 billion between 2015-2020. The Abbott government has ruled out increasing subsidies.