Intel Corporation, US chipmaker and world leader in computing innovation, said on Monday it would make chips for Panasonic for audio- and visual-equipment markets.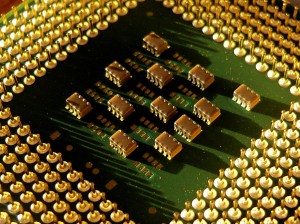 According to the news release by Intel, the company has signed a manufacturing agreement with Panasonic Corporation's System LSI Business Division.
This is the company's latest expansion of its contract manufacturing business which currently contributes little to its overall revenue.
The company will use its leading-edge 14 nanometre process technology to make system-on-chips for Panasonic's System LSI division for use in audio-visual-equipment markets.
"Intel's 14nm Tri-Gate process technology is very important to develop the next- generation SoCs. We will deliver highly improved performance and power advantages with next-generation SoCs by leveraging Intel's 14nm Tri-Gate process technology through our collaboration," said Yoshifumi Okamoto, Director, Panasonic Corporation SLSI Business Division.
"We look forward to collaborating with the Panasonic SLSI Business Division. We will work hard to deliver the value of power-efficient performance of our 14nm LP process to Panasonic's next-generation SoCs. This agreement with Panasonic is an important step in the build-up of Intel's foundry business," said Sunit Rikhi, Vice President and General Manager of Custom Foundry at Intel.
These chips could give Panasonic a performance and power-consumption lead over chips made by other contract manufacturers.
According to Bloomberg, Intel is seeking growth in new businesses as the PC market declines for a third consecutive year.
Five other semiconductor companies have announced agreements with Intel's custom foundry business, including Altera, Achronix Semiconductor, Tabula, Netronome and Microsemi.
The company's shares fell less than 1% to close at $31.03 in New York, while the stock has registered a 20% rise this year.