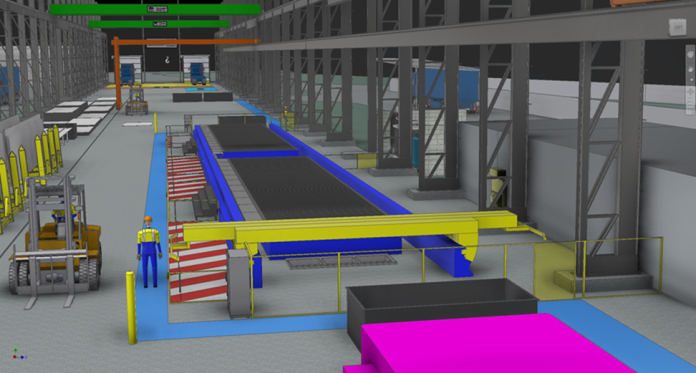 Media Release by BlueScope Distribution
As Australia continues to grow and invest in Defence, Infrastructure and Renewable energy projects, so too does the commitment from BlueScope Distribution to help support all those who will be involved in their delivery. Our investment focuses on developing our own sovereign capability required to facilitate a lean supply chain, and an all-encompassing partnership with SME's and Prime Contractors to successfully deliver these projects over the next decade.
BlueScope Distribution has invested $6.9M into a new custom site strategically located in Unanderra, NSW in close proximity to the BlueScope steelworks and other supply partners including Bisalloy Steel. The state-ofthe-art facility provides BlueScope Distribution customers with world-class plate processing capability, a dedicate project management team and access to local technical knowhow. This will enable the business to further support the delivery of national projects in the defence, infrastructure, renewables, mining oil & gas, transport and agriculture segments.
"When we looked at the sovereign capability we have in Australia, we saw an opportunity to complement our 15 existing BlueScope Distribution sites around the country with a national capability to deliver product, processing and solutions for large customers" said Sam Gerovasilis, General Manager BlueScope Distribution.
The new capability comes fully equipped with its own dedicated project management team, plate processing capability and access to a variety of transportation solutions, which provide a highly efficient supply chain for the delivery of semi-finished steel components Australia-wide.
Customers have access to a comprehensive steel and aluminium product portfolio and the ease of dealing with one single-source provider of product, processing of semi-finished components and project management solutions to deliver national projects on time and to specification. "We are a single source supplier of sovereign capability. We provide steel and aluminium, design processing outcomes rather than just standard products, and our semi-finished components can really help the efficiency of those large-scale projects." adds Mr Gerovasilis.
"Surge capability and capacity to deliver project milestones is important to us, that's why we've strategically invested in a new capability in Unanderra, NSW. It enables us to partner with the BlueScope steelworks and other supply partners like Bisalloy Steel, to ensure we can provide a seamless supply chain solution for our customers." says Mr Michael McPhan, BlueScope Distribution's National Operations Manager leading TheHub.
Now BlueScope Distribution's 16th site, the new capability offers a unique, one-of-a-kind solution for customers involved in delivering significant projects Australia-wide. "No longer do our customers need to invest their own time and resources in co-ordinating the steel and aluminium supply chain or the processing of steel semifinished components – we've invested in this capability to help them find the freedom to do what they do best." adds Mr McPhan. "This, along with a multitude of other value-adds, is the driving force behind this customerfocused investment."
The consistency in quality of product that BlueScope Distribution offers is vital to large-scale projects, along with traceability of materials. The National Product, Processing and Solutions Hub includes robust onshore stockholding of steel and aluminium sourced locally and from overseas to supply the highest quality for customers.
The sites capability and capacity to partner with customers to provide end-to-end supply chain solutions will deliver new-found capability for the delivery of projects in Australia. Partnering with BlueScope Distribution will provide customers delivering these large-scale projects newfound ease, efficiency and surety of supply.
The official facility opening will take place on Thursday 12th May 2022 during the final day of IndoPacific 2022 which will be held at the ICC in Sydney. Any customers attending either IndoPacific or Sydney Build can register their interest for a site tour via the BlueScope Distribution website.