As part of their "Effect Skins" project, designers Kota Nezu and Junjie Sun have introduced the customised Stratasys 3D printed decorative frames on the bumpers and emblem of the Daihatsu Copen car.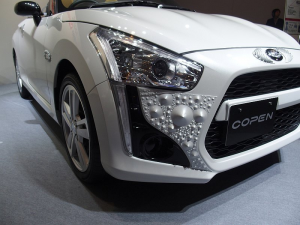 "The creativity of DRESS-FOMATION, which aims at enabling you to express yourself in the car's design, is limitless. Effect Skin is the right tool for expressing it with 3D printing technology together with the creative designs and concepts we have been receiving.  With this single project, we are combining automotive car, manufacturing and 3D printing to bring a new personalised automotive experience to our customers," said Osamu Fujishita, Chief Engineer, Daihatsu.
Designer/3D Creator Junjie Sun created 12 types of "Effect Skin" parts with 10-colour variations produced with high UV stability ASA thermoplastic material.
Daihatsu totally redesigned and re-introduced the Copen car to the market in 2014. Now, thanks to the Stratasys Fused Deposition Modelling (FDM) 3D printing technology, people can choose their own unique design elements on the front bumper and emblem.
The personalised car was showcased at the 2015 Design Engineering & Manufacturing Solutions Expo (DMS), the largest IT solutions expo for the manufacturing industry in Japan that took place at the Tokyo International Exhibition Centre (Tokyo Big Sight), June 24–26. Visitors to the Stratasys booth got the chance to try their hand at designing a unique decorative element for the Daihatsu Copen.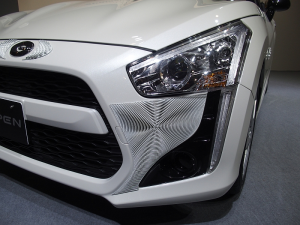 "The Copen is an integral part of the Stratasys presence at DMS," said Hiroaki Katayama, President and CEO of Stratasys Japan.
"Our professional line of 3D printing systems enables manufacturers to perform large-scale production jobs more efficiently while maintaining high production standards. Meanwhile, the desktop series, inclusive of MakerBot, will continue to inspire creative thinking and empower individuals to unleash creativity."
For more detailed information, please go to http://www.stratasys.com/