JR Richards and Sons has continued its long-standing business relationship with Iveco with the purchase of eight new Iveco ACCO compactors and a Eurocargo Pantech.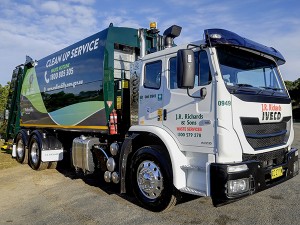 The new fleet of trucks – which was built at Iveco's Melbourne facility – will help the waste and recycling services provider meet the requirements of a new waste collection contract with Wollondilly Council on the outskirts of South Western Sydney.
The ACCOs have a 6×4 driveline and have been fitted with a selection of compactor bodies to service the contract requirements, including six sideloaders: two each in three different configurations to suit waste, recycling and organics collections.
The other two are set-up as rear loaders for conducting kerbside clean-ups, while the 4×2 Eurocargo is equipped with a Pantech-style body and tailgate lifter to collect items such as old whitegoods and batteries.
JR Richards and Sons has enjoyed a successful business relationship with Iveco that can be traced back to the 1970's, when the company purchased the first Iveco ACCO.
"We purchased our first new ACCO in 1979, I can't remember the exact model but it was possibly a '1310', but prior to '79 we also had several second hand ACCOs," said JR Richards and Sons Associate Director, Rob Marlow.
"Currently we have over 200 on the road and a further 18 in the pipeline for upcoming work."
According to the press release by Iveco, the new ACCOs feature a high quality American driveline consisting of an SCR engine producing 209kW and 1055Nm, Allison full automatic transmission, Meritor Axles and Hendrickson suspensions.
"On the safety front, the trucks are well equipped featuring ABS with Active Traction Control as standard," reads the press release.
"The thick steel cabin easily complies with ECE-R29 cab strength regulations and is the strongest available in Australia, offering outstanding protection in front lift applications.  For sideloader work, the ACCO's three quarter side windows provide excellent visibility."
Mr Marlow said that the ACCOs were well suited to the demanding nature of refuse work and had proven themselves with many years of successful service.
"The waste industry is fairly hard on collection vehicles with constant stopping and starting as we collect bins doing door-to-door servicing at low speeds with lots of braking. We also travel all roads, not just the tarred ones, and landfills are not known for their great driving surfaces, so the vehicles have to be very robust," he said.
"Add to this the specialist nature of what we do, if a truck breaks down, you cannot just go and hire a replacement to perform what are essential services with public health implications.  So the vehicles must be very reliable and parts need to be available to ensure downtime is kept to an absolute minimum. These are the areas we find the ACCOs excel in, and the major reasons why we keep coming back to them."
According to Iveco, 85% of the ACCO's componentry is Australian-sourced, which is the highest quantity of any locally-manufactured truck.