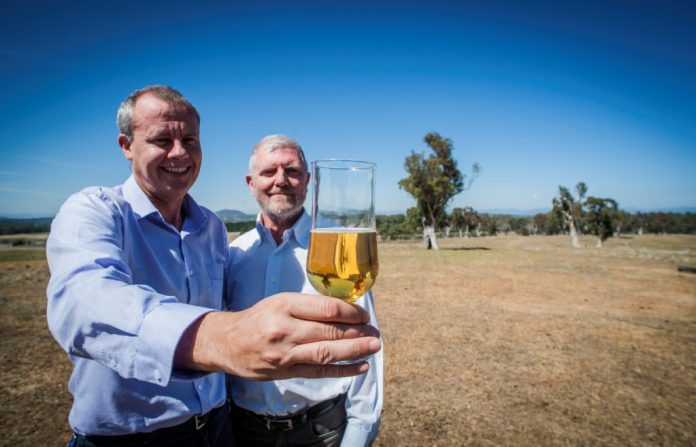 People with coeliac disease around the world could soon be able to kick back with a cold glass of beer thanks to work by Australian scientists.
CSIRO scientists, with support from the Grains Research and Development Corporation (GRDC), have bred the Kebari grain, a new barley variety with ultra-low levels of hordeins, the type of gluten found in barley.
German beer brewing company Radeberger has used the Kebari barley to develop the world's first commercially produced, full flavoured, barley-based gluten-free beer – Pionier – which CSIRO scientists see as the first of many products that can provide greater variety of foods and beverages for people struggling with coeliac disease and for those who avoid gluten in their diet.
While the Kebari grain cannot be called "gluten-free" in Australia under the current Food Standards Code, it contains gluten levels well below 20 parts per million – the level recommended by the World Health Organisation (WHO) for classification as gluten free – allowing  products made with Kebari barley to be classified as such in many countries around the world, including Germany.
CSIRO Principal Research Scientist, Dr Crispin Howitt said that by using conventional breeding, the CSIRO scientists were able to reduce the gluten levels to 10,000 times less than regular barley, which more than meets the WHO's recommendation for calling a grain gluten-free.
"It's really exciting seeing the first product made with the malted version of our Kebari grain, we hope it's the first of many products," Dr Howitt said.
"We're also working on a hulless version of Kebari which is preferable for use in a range of foods like breakfast cereals, soup, even pasta and flatbreads, which will be the first part of the next generation of gluten free products helping people with coeliac disease to increase fibre, promote bowel health and enhance nutrition in their diet."
According to the press release by CSIRO, the Walter and Eliza Hall Institute of Medical Research and The Royal Melbourne Hospital were involved in the early stages of the ultra-low gluten barley project.