Global security and aerospace company Lockheed Martin has been selected by the Australian Department of Defence to oversee the training of the next generation of Australian Defence force pilots.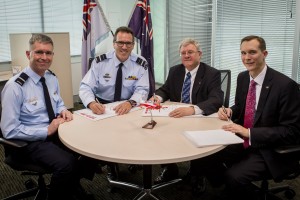 Under the terms of the contract, the Lockheed Martin-led Team 21 – which also includes Pilatus Aircraft and Hawker Pacific – will deliver an integrated solution tailored for all future pilots for the Royal Australian Air Force, Royal Australian Navy and the Australian Army.
Jon Rambeau, vice president and general manager for Lockheed Martin Training and Logistics Solutions, said the initial $1.2 billion agreement is for a seven year period with performance-based options to extend to up to 25 years.
"We are honoured to partner with Australia to deliver a comprehensive training solution that is customised for their needs and focused on fifth-generation mission readiness," Mr Rambeau said in a press release.
"Our proven, innovative training system will help the Australian Defence Force meet the challenge of preparing pilots to perform in today's complex global environment."
Raydon Gates, Chief Executive, Lockheed Martin Australia and New Zealand, said the company will provide overall project management for the pilot training system and deliver a family of integrated ground-based training technologies.
"Our approach will be tailored to the particular needs of Australia's future defence requirements and will leverage proven turn-key training capabilities from Lockheed Martin, as well as those of our partners – Pilatus Aircraft and Hawker Pacific," Mr Gates added.
Under the agreement, Pilatus Aircraft will provide PC-21 turboprop training aircraft and through-life engineering and airworthiness support, whereas Hawker Pacific will deliver maintenance services and fleet support and leverage its established supply chain in Australia.
The agreement will see Australia join Singapore in employing Lockheed Martin-led integrated turn-key training solutions for increased pilot competency, shorter training times and lower training cost. Team 21 is in the ninth year of a 20-year performance-based flight training contract to provide the Basic Wings Course to the Republic of Singapore Air Force, the at Royal Australian Air Force Base Pearce in Western Australia.