The A$30 million-plus Instrumentation and Technology Centre (AITC) at the Australian National University (ANU) has been completed.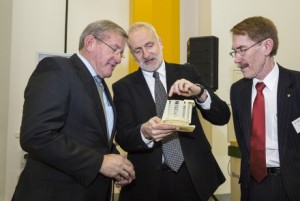 "Australia is doubly blessed because Mt Stromlo also has a long heritage of combining scientific and engineering excellence to design, manufacture and test the high precision instruments which support cutting edge research that I think we often take for granted in Australia but which we should always be proud of," said Minister for Industry, Ian Macfarlane who officially opened the Centre.
According to the media release, ANU has already signed two major contracts totalling over $11 million for projects at the AITC.
The first is a $5 million design contract for one of the first instruments to be installed on the Giant Magellan Telescope (GMT), the GMT Integral Field Spectrometer.
"This will help find answers to questions about such cosmic mysteries as the formation of galaxies, dark matter and dark energy," Mr Macfarlane said.
"This is going to be a fantastic facility that will take full advantage of the giant mirror and give us images that are ten times sharper than the Hubble Space Telescope," said Research School of Astronomy and Astrophysics Director Professor Matthew Colless.
The second contract is a $6.4 million project to develop a space junk tracking system for the Korean Astronomy and Space Science Institute.
"We expect a $20 million or thereabouts construction contract will follow on from the design contract," said Professor Colless.
"We have new capabilities that others didn't have. We're fortunate that we have fantastic people who here who are giving us that edge."
According to him, AITC will be the Australian hub for space industry.
"Australia has many small to medium enterprises in the space industry. We want to enable them to get together to take on larger projects," he said.
According to the article on Canberra Times, AITC has the only piece of equipment "this side of the equator" that can create space-like conditions on earth – the "space simulation facility" (aka the Wombat XL) that can create micro-environments with temperature extremes between -170C and up to 150C.
The Wombat is just one of the many incredible devices that are already being used to design, test and manufacture telescope parts, prototype space drives and even small satellites.