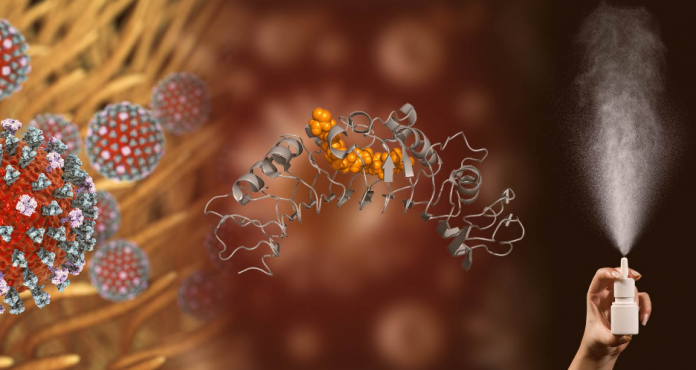 Ena Respiratory, an Aussie biotechnology company aiming to transform the treatment and prevention of respiratory infections in at-risk populations, has developed a nasal spray that is said to have the potential to fight COVID-19 among other respiratory infections.
The nasal spray, dubbed the INNA-051, works by stimulating the innate immune system, the first line of defence against the invasion of pathogens into the body.
If the nasal spray proves successful once the testing phase is complete, it will be manufactured and formulated in Australia.
The INNA-051 targets the primary site of most respiratory infections and activates defence mechanisms in the respiratory tract that are essential to fight off the infections.
"We've been amazed with just how effective our treatment has been," said Ena Respiratory Managing Director, Dr Christophe Demaison.
"By boosting the natural immune response of the ferrets with our treatment, we've seen a rapid eradication of the virus.
"If humans respond in a similar way, the benefits of treatment are two-fold. Individuals exposed to the virus would most likely rapidly eliminate it, with the treatment ensuring that the disease does not progress beyond mild symptoms.
"This is particularly relevant to vulnerable members of the community. In addition, the rapidity of this response means that the infected individuals are unlikely to pass it on, meaning a swift halt to community transmission."
The company's innovative nasal project and four other projects will share almost $30 million dollars in government funding to commercialise their ideas.
The funding was announced in a joint media release by the Minister for Industry, Science and Technology, Karen Andrews and the Minister for Health the Hon Greg Hunt MP.
"Australia's health and medical researchers are world class and this investment will continue the proud Australian tradition of discovery and translation that saves lives and improves lives," Minister Hunt said.
"The Morrison Government is backing Australia's next generation of medical advances and this investment means these businesses have the potential to take their technology to the next level."
The other companies which have been awarded funding are Kira Biotech, Closed Loop Medical, Adherium and Polyactiva.
Image credit: https://enarespiratory.com/