The new Falcon – Ford's last model to be rolled out in Australia before the company's planned exit in 2016 – will be the first Australian-made car that can automatically dial 000 if you have a crash.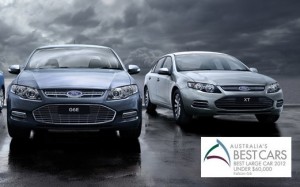 This potentially life-saving feature will call emergency services if the airbags are deployed and the phone is paired via Bluetooth, thereby significantly increasing the chances of survival in severe crashes.
According to the article on News.com.au, if the 000 operator cannot make voice contact with the driver or passengers, emergency services will be able to send police, fire and ambulance officers to the crash scene using the GPS co-ordinates sent by the phone.
Ford has had the 000 technology in a selected number of its imported cars for 12 months, but the system is expected to be fitted to all new Ford Falcon sedans and Territory SUVs from later this year, as part of the company's plan to broaden its customer appeal and make it all the way to the proposed deadline of October 2016, when the Broadmeadows car assembly line and Geelong engine and stamping plants are due to close.
Ford's 000 technology is part of a system called "SYNC 2", which also enables the driver to control the radio, air-conditioning and navigation systems by voice commands so they can keep their hands on the steering wheel.
Before its introduction locally Ford tailored the system to understand Australian accents after some misunderstandings with earlier versions.
The Ford system is the first of its type in an Australian-made car because it calls emergency services directly.