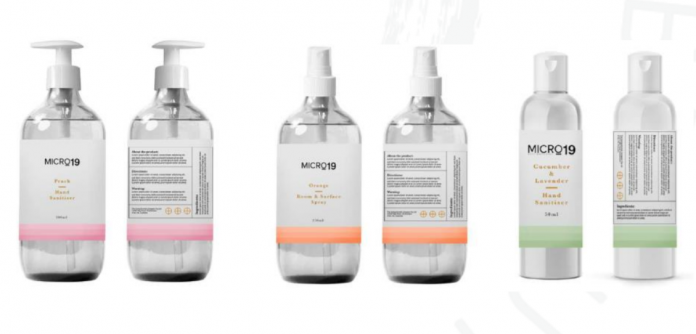 Wellness and Beauty Solutions Limited (WNB) will form an incorporated joint venture company with plastics packaging specialists, Piggott Investments and Glegra, to manufacture MICRO19 hand sanitiser products for sale.
Developed in direct response to efforts to contain the spread of COVID19, WNB's MICRO19 hand sanitiser product range is manufactured with raw materials and packaging sourced through Australian suppliers and is effective against 99.99% of germs.
According to WNB's announcement, the newly established Joint Venture will be 50% owned by WNB and 25% owned by each of the other shareholders, Piggott Investments and Glegra.
It is estimated that the JVCo will have the ability to produce between 200,000-500,000 units a month across various pack sizes. The range includes MICRO19 Hand Sanitiser Pump in 300ml in both peach/cucumber and lavender scents, MICRO19 Hand Sanitiser in 50ml bottle in both peach/cucumber and lavender scents, and MICRO19 Room and Surface Spray 300ml orange scent. WNB has since extended the range to include MICRO19 100ml tube products.
WNB Managing Director Christine Parkes said a leading pharmacy retailer has already placed an opening order for MICRO19, adding that the company is also receiving strong inbound demand from other retailers in Australia.
"Clearly there is an unwavering demand for hand sanitisers in the current environment and we are pleased WNB has been able to form a joint venture that brings together the brand development and manufacturing expertise of WNB and the expertise of plastics packaging specialists Glenn Molloy and Ralph Piggott to build MICRO19 into a trusted household name beyond the global COVID19 pandemic," Ms Parkes continued.
"We believe this JV further demonstrates WNB's ability to identify a market gap in the beauty and wellness sector pivoting quickly to execute on a strategy to deliver value for our shareholders.
"We are also proud that we are able to make MICRO19 at a time of great community need whilst supporting local Australian businesses through this partnership."
Image credit: https://www.asx.com.au/asxpdf/20200318/pdf/44g53cc5ftz70w.pdf