We've seen amazing and rapid advancements in the use of 3D printing in the medical field, so the latest contribution by 3D Systems comes as no surprise, but a welcome addition.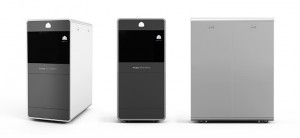 The company, which is recognised as one of the leaders in this area, has announced the availability of a new all-in-one 3D printer for professional medical use.
The new ProJet 3510 DPPro  is the latest addition to its stellar MultiJet (MJP) line that is set to allow medical and dental labs to print precision dental wax-ups; durable implant drill guides; temperature-resistant, thermo-formable orthodontic patterns; and crown and bridge moulds interchangeably, at up to twice the throughput of today's printers.
"Our primary purpose is to democratise access to more affordable and powerful tools for the benefit of our customers. With its high resolution, high capacity and expanded material compatibility, the DPPro can support the widest range of medical applications, at a very low cost of ownership," said Buddy Byrum, Vice President, Product Management, 3DS, in a press release.
3D Systems plans to debut the new ProJet 3510 DPPro at LMT LAB DAY Chicago 2015, that is scheduled to take place February 27 and 28, 2015, at the Hyatt Regency Chicago.
The event is the largest gathering of the national dental lab community.
"LMT LAB DAY is the perfect venue to demonstrate this new, multipurpose machine to those who will benefit most from it," said Byrum.
3DS will also showcase its vast range of medical and dental solutions, including its Virtual Surgical Planning (VSP®), its latest 3D printed metal hybrid implant bars, partial frameworks, coping and bridges for dental procedures, as well as its affordable and capable ProJet® 1200 micro-SLA desktop 3D printer for quickly creating highly precise dental wax-ups.
For more information, please go to http://www.3dsystems.com.