Opel, Europe's third-largest automotive manufacturer, has managed to cut manufacturing tool production costs by up to 90% by incorporating Stratasys 3D printers into its manufacturing process.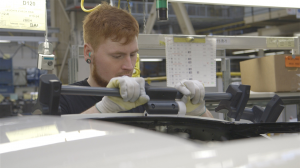 The company is using Stratasys 3D printed manufacturing tools to attach production parts to its "Adam" hatchback car, including roof spoilers, glass roofs and the lettering on the rear window.
According to Stratasys, thanks to its FDM Printers, Opel now 3D prints assembly tools that are used to precisely attach different components to the car in less than a day.
"Besides the cut in tool production time and considerable cost reductions, customised tools are a third important benefit achieved with 3D printing. We are now able to produce more complex shapes than we could via conventional manufacturing. This crucially allows us to adapt the tool to the worker and the specific car," said Sascha Holl, Virtual Simulation Engineer – Tool Design at Opel.
"Cases like Opel emphasise the massive impact that low risk, high-reward 3D printed parts – such as manufacturing tools – can have on production efficiency. The capability to produce such items on-demand at reduced costs can significantly accelerate time-to-production and give businesses that competitive edge. Combine that with the ability to customise tools efficiently, as well as create complex geometries, and you can see why Opel is indicative of the way in which additive manufacturing is transforming our customer's production operations," added Andy Middleton, President, Stratasys, EMEA.
For more detailed information, please go to www.stratasys.com
Check out the video below.