Quickstep Holdings has announced that it has delivered the 100th manufactured carbon-fiber composite part for its contract with Northrop Grumman, marking yet another milestone in its involvement with the world's largest military aerospace program.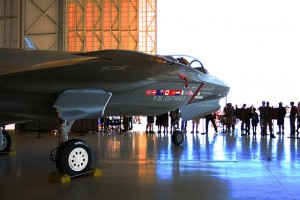 "We are pleased we have delivered our 100th manufactured part for the  Joint Strike Fighter program, meeting production commitments agreed more than two years ago. This is an important milestone for the company which reinforces our reputation as a proven supplier of high quality carbon-fibre composite parts," says Quickstep Managing Director Philippe Odouard in a media release.
Odouard says Quickstep's participation in the Joint Strike Fighter program is a "powerful endorsement" of the company's capability, which could help secure other supply contracts in the aerospace and automotive industries.
The international F-35 Lightning II Joint Strike Fighter (JSF) program is the largest military aerospace program in the world, valued in excess of US$300 billion worldwide. About 3000 JSF aircraft are expected to be delivered during the course of the program.
Quickstep's participation in the JSF program is expected to generate revenue of approximately $40 million per annum.
In May Quickstep received praises from Northrop Grumman after successfully achieving two major milestones earlier this year.
First, it was able to complete the first bismaleimide and graphite epoxy production parts, which shows that its facility is equipped and qualified to execute all of the required processes for its work on the F-35 program. Second, Northrop Grumman's F-35 chief engineer has given the full approval for the bismaleimide and graphite epoxy destruct test articles.
Michelle Scarpella, vice president of the F-35 program for Northrop Grumman Aerospace Systems says they are impressed by Quickstep's ability to reach these milestones less than a year after it opened its Bankstown facility in Sydney.
Quickstep was able to complete and deliver the first parts for the JSF program right on schedule last March, while in April, the company received its biggest purchase order.
Minister for Defence Materiel Dr. Mike Kelly says Quickstep's performance is an outstanding example of innovation.
"Quickstep's performance on the Joint Strike Fighter program is an outstanding example of an innovative Australian company supporting international defence contracts. This demonstrates the strong  capability of Australian manufacturers to deliver products for global supply chains," says Mr. Kelly.