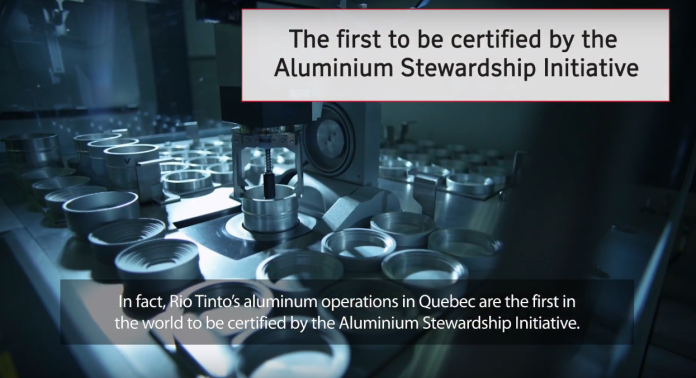 Rio Tinto has become the world's first company to have received certification under the Aluminium Stewardship Initiative (ASI), the highest internationally recognized standard for robust environmental, social and governance practices across the aluminium lifecycle of production, use and recycling.
Rio Tinto Aluminium chief executive Alf Barrios said by using ASI certified aluminium, manufacturers and end users will now be able to demonstrate their commitment to a sustainable supply chain.
"We expect responsible aluminium production will become increasingly important for our customers and the consumers who buy their products," he said.
"Rio Tinto is proud to take this pioneering step as the first company to achieve ASI certification, which continues our industry leadership on sustainability and responsible production as we work closely with customers to meet their needs."
"We launched the first certified low carbon aluminium, RenewAl, in 2016 and produce some of the best quality, lowest carbon footprint aluminium in the world at our Canadian smelters. Responsibly produced aluminium has a key role to play in driving human progress, as a material of choice to reduce carbon and increase recycling across a wide range of end products from food packaging to buildings, planes, cars, mobile phones and computers."
Rio Tinto Aluminium vice president sales and marketing and ASI Board member Tolga Egrilmezer said the certification follows an independent third party audit and covers a range of operations across the aluminium value chain, from bauxite mining to alumina refining, aluminium smelting, the creation of value added products, transformation and recycling, and associated activities.
"As a founding member of the ASI, Rio Tinto has helped to drive responsible production standards for the aluminium industry alongside customers and a broad range of stakeholders," he continued.
"We expect to see growing demand for ASI certified products from end users and customers seeking to demonstrate a responsible supply chain."
The ASI certification extends to Rio Tinto's five aluminium smelters, the Vaudreuil refinery, casting and spent potlining treatment centres and associated infrastructure in Quebec, Canada, as well as to the Gove bauxite mine in Australia.
The company said it would begin working with the ASI on audits and certifications for other sites in its global aluminium business.