Rockwell Automation, a company with a long history of servicing customers with technology innovation, deep domain expertise and a culture of integrity and social responsibility, has released its 2014 Corporate Sustainability Report with the aim to support smart, safe and sustainable manufacturing around the world.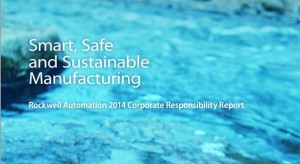 Rockwell Automation is a leading global provider of industrial automation and information solutions that helps manufacturers achieve a competitive advantage in their businesses. The Connected Enterprise continues to be the core focus for the company, bringing together people, processes and technologies to achieve enhanced productivity, sustainability and economic performance.
"Rockwell Automation is at the forefront of enabling industry leaders to move the Connected Enterprise from concept to reality to further enhance business performance through integrated control and information," reads the press release by Rockwell.
The company's 2014 Corporate Sustainability Report shows that Rockwell Automation continues to move steadily towards achieving its environmental goals, as illustrated by its ranking in the 2014 Newsweek magazine's Green Rankings for US companies (8th place).
Rockwell has been named one of the world's most ethical companies by the Ethisphere Institute for the seventh time, and has been listed on the FTSE4Good Index of Companies for more than a decade.
The company also ranks high on the global workplace safety lists and has received numerous international recognitions and awards for its achievements in that area.
"Global safety performance, as measured by Recordable Case Rate (0.36), remained best in class in 2014 when compared to the average private industry rate (3.4) and with the average rate for electronic manufacturing peers (3.0). Rockwell Automation was included in EHS Today's 2014 class of America's Safest Companies and was announced the winner of Singapore Ministry of Manpower's Workplace Safety and Health Council's Excellence Award," it says in the press release.
Rockwell's financial achievements for 2014 include sales of $6.62 billion with adjusted earnings per share growing by 8%. In relation to supply chain, nearly 70% of total supplier spend is in the regions where the company manufactures products.
Purchases from US minority and women-designated enterprises increased to more than $157 million, a diverse supplier purchase rate that is higher than industry peers.
In keeping with its values to promote technical excellence to future generations, Rockwell Automation has collaborated with FIRST – a global organisation that inspires young people to be science and technology leaders to help increase availability of technical talent for a skilled workforce – for more than a decade. The company has also made worldwide charitable cash donations and in-kind product donations that total $7.6 million.
Rockwell Automation has 22,500 employees with more than half residing outside of the US. The company earned a perfect score of 100 on the Human Rights Campaign 2013 Corporate Equality Index.