Minister for Higher Education and Skills Nick Wakeling has officially opened a 'one-stop-shop' to assist the retraining of Geelong workers as the region shifts away from traditional manufacturing into new areas, such as advanced manufacturing and health care.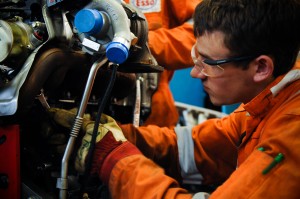 "The Geelong Workforce Development Centre, will be one of three centres across the state that provide Victorian workers affected by the restructuring of a number of large employers with vital services and assistance to deskill. Workers in Geelong will be given immediate access to careers information, financial advice, training and reskilling support, as well as employment workshops and referrals to other support services." Mr Wakeling said.
The centre was part of the second phase of the Napthine Government's $11 million Skilling the Bay Initiative, which is expected to deliver retrenched workers in Geelong a higher chance of accessing the training and skills to secure long-term job opportunities.
Liberal Candidate for Bellarine Ron Nelson welcomed the opening of the new centre.
"The Napthine Government's Skilling the Bay project is a fantastic initiative that enables Geelong's students and workers to engage in training, and importantly, improves the job-readiness and skills of those at risk of unemployment," Mr Nelson said.
Mr Wakeling has revealed that the investment in Skilling the Bay was on top of the Napthine Government's $1.2 billion annual investment in vocational education and training.
Next month two other Workforce Development Centres, located in Broadmeadows and Dandenong, will be opened.