A new smartphone application designed to help customers log service requests faster and easier has been launched by Toyota Material Handling Australia.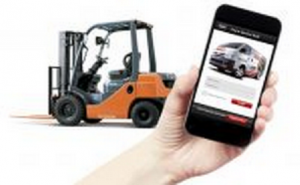 According to a press release from TMHA, the service iPhone app sends the service requests by email direct to the national service manager and TMHA marketing department which will in turn be handled by the nearest branch. An android version will also be available for non-iPhone users.
Customers will be able to easily log service breakdowns on their mobile phones' touch screen and can even include a photograph of the item or unit that requires service.
"Customers can log faults by brand, type of forklift used and type of fault," said TMHA general manager, service, Stephen Barnes.
"This means the service technician will arrive at the customer's premises forearmed with this information and be better equipped to diagnose and fix the problem."
"TMHA sees this app providing quicker logging of service requests and further raising Toyota's industry-leading customer service standards."
Users can begin using the iPhone app by first completing a one-page customer profile registration. After registering they can follow the simple procedure to log a service with four sections – forklift information, service required, request details and upload photo (if required). All four sections have easy-to-use menus.
An additional screen provides the latest service centre, based on the customer's postal code, and a button for TMHA's after-hours telephone number. Meanwhile the request details page features drop boxes for brand, unit number, fleet number and a general screen for comments.
TMHA boasts a national network of 15 company-owned service centres and more than 270 mobile service vans, according to the media release.
"It has set the Australian benchmark in service technician training for the last three decades."