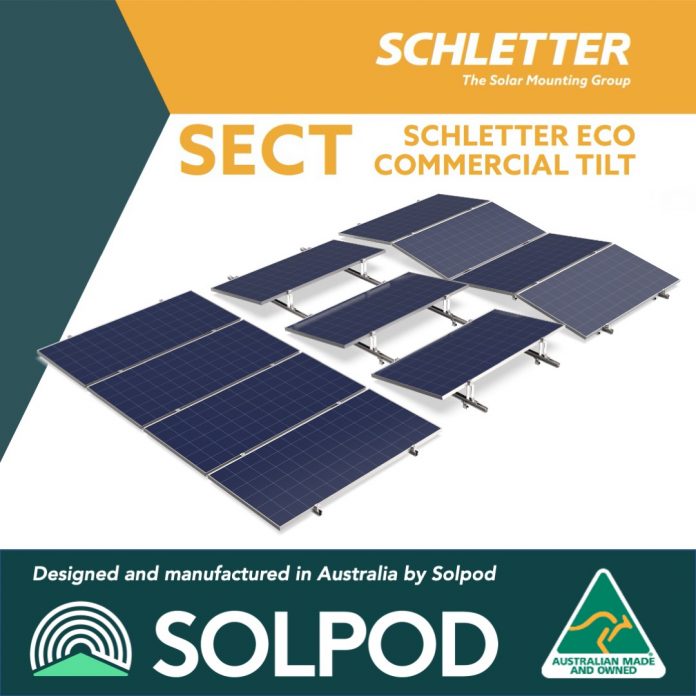 Solar rooftop mountings manufacture Solpod has inked an OEM (original equipment manufacturer) agreement with Germany-based Schletter, a global leader in solar mounting solutions.
Under the agreement, Solpod will manufacture its innovative multi-function roof mounting system for Schletter in Australia, which Schletter will market as the Schletter Eco Commercial Tilt (SECT) range, designed for the rooftop, commercial and industrial solar market.
James Larratt, CEO of Solpod said product range covers north-facing tilt, east-west tilt and flush solutions, further enhanced by reduced number of stock items, all utilising the same design language.
"With the launch of the Schletter SECT product range, the Australian solar industry can access locally made solar mounting with the added benefit of Schletter's sales and support engineers," Mr Larratt continued.
"Our products set a new best practice in Occupational Health and Safety with installers no longer required to reach over the 1-metre width of a panel to tighten clamps; reducing the risk of back injury.
"Removing this action also reduces a major source of panel damage, which can occur when installers lean on panels and create microcracks that degrade performance over time."
He said the company's innovative design enables cost effective manufacturing in Australia, which creates sustainable manufacturing jobs.
"We estimate over 1,200 direct manufacturing jobs could be created by Australian industry switching to locally manufactured rooftop mounting solutions," Larratt said.
Trevor De Vries, Managing Director of Schletter Australia, added: "With our global leadership and German engineering heritage, Schletter are considered a premium solution within the solar mounting systems space.
"Our partnership with Solpod on SECT is a wonderful endorsement of Australian innovation and manufacturing and adds real depth to our product portfolio," Mr De Vries concluded.
Image credit: https://www.solpod.com.au/