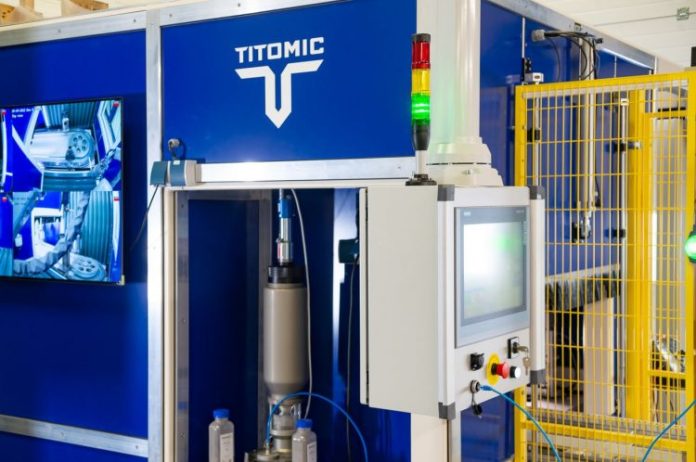 Titomic Limited announced that Factory Acceptance Testing of its first commercially ordered turnkey glass mould coating system was completed successfully prior to shipment and installation.
In a world-first for automated cold spray applications, Titomic Europe has developed a system for coating glass moulds in partnership with IPGR, a prominent glass research organization.
The system analyzes the moulds and creates a robotic program to coat and repair them automatically using AI software.
It enables increased lifespan of glass moulds, reduced manual input and increased operator safety, maximised uptime of glass bottle production plants, as well as elimination of dirty grease traditionally used to lubricate moulds.
Herbert Koeck, Managing Director of Titomic described the move as "a big advancement in automated cold spray technology that will improve the performance of moulds in the glass sector".
"This entry into the glass packaging and components market represents a new income stream for Titomic," he continued.
"The industry needs this type of mould enhancement to prolong life of production lines and mould machinery. As such, we will be providing machine sales – the first of which we're about to ship to Vetropack – as well as ongoing consumables and servicing enabled by our expanded global footprint.
"Titomic Europe, together with its collaborators, have made a significant step forward in the development of automated systems, improving conditions for operators as well as adding to the bottom line of our customers."
Titomic said in a statement that mould loading, unloading, and polishing will be automated in future iterations of this technology.
It said the delivery of the system was expected to be completed in the following days.
"The system will now be shipped to Vetropack, Austria – a leading glass packaging manufacturer in Europe – for installation," reads the statement.
Image credit: https://titomic.com/news/titomic-ready-to-deliver-the-worlds-first-automated-cold-spray-glass-mould-coatings-system/