Medical devices manufacturer Bayro No. 1 has been awarded a $250,000 grant from the Palaszczuk Government's Advance Queensland Ignite Ideas fund to accelerate the development of an innovative feeding device for people who have difficulty swallowing.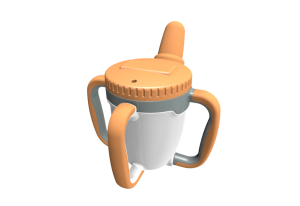 Announcing the grant award, Innovation Minister Leeanne Enoch said the device – named 'RoseCup' – could improve the quality of life of millions of people suffering from dysphagia.
"More than one million Australians and an estimated 18 million Americans have dysphagia – or difficulty swallowing – due to stroke, brain injury, head or neck cancer, advancing age, and diseases such as Alzheimers and Parkinsons," Ms Enoch noted.
"Hospital admissions are costly and it can be terribly difficult for people to be fed through the stomach or nose, so there are very good social and economic reasons to scale up the production of RoseCup."
The RoseCup is a simple but ingenious device for people who cannot swallow solid food or drink safely and are at risk of dehydration, pneumonia, malnutrition and dying.
Bayro's Managing Director Dr Gabriel Roux, who designed the RoseCup, has spent years developing the device, working with caregivers, speech pathologists, nutritionists and local food and plastics manufacturers.
"The only feeding options on the market for dysphagic patients are made from hard plastic and these don't protect the airways sufficiently. They overlook the simple, intuitive way we all learned to feed – the principle of sucking before swallowing." Dr Roux explained.
"The cup's unique flow and volume control as well as soft silicone spout makes swallowing safer for the patient and the job easier for the caregiver. I'm optimistic the RoseCup and the nutritious food range we've created (NutriTaste) will become part of best practice for feeding regimes in hospitals and aged-care facilities worldwide."
He said the grant money will be used to assist in undertaking market and research testing and to further develop the product.
"The funding allows us to do things now instead of down the track, and help us to reinvest and expand the business in new areas. Initially, RoseCup NutriTaste will be rolled out in South East Queensland which has almost 300 residential aged care facilities, and then country-wide," Dr Roux added.
"We have also received significant international interest in the product range. Several international patents have already been awarded and we hope to export to both first and third-world countries around the globe."
The Advance Queensland Ignite Ideas program provides assistance for businesses with fewer than 200 staff that have a working prototype with enough features to support testing and further development.