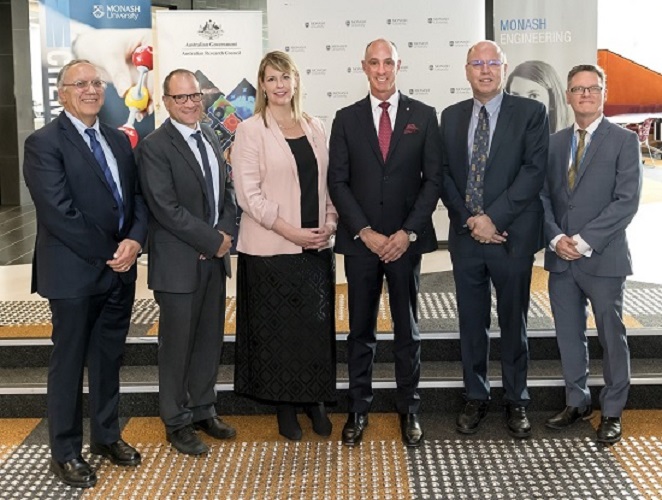 Monash University is looking to transform Australia's health sector and drive the innovation of green chemistry in Australian manufacturing with two new dedicated research training centres supported with $8.6 million in Federal Government funding.
The two new dedicated Australian Research Council (ARC) Training Centres – to be located at the University's Clayton Campus – are expected to attract a total of $20.9m through cash and in-kind support, and involve collaborations with a number of local and international partner organisations.
Led by Professor Laurence Meagher in the Materials Science and Engineering Department, the ARC Training Centre for Cell and Tissue Engineering Technologies will fund world-leading research into tissue engineering and regenerative medicine that will lead to better medical treatment for all Australians.
Professor Meagher said the Centre will combine expertise from four Monash Faculties (Engineering; Medicine, Nursing and Health Sciences; Pharmacy and Pharmaceutical Sciences; and Business), along with partners at Queensland University of Technology and 26 additional organisations, to drive innovation in Australia's growing biotechnology industry.
"Hundreds of thousands of patients are facing debilitating diseases for which there is sometimes no cure," he said.
"This new research centre will create jobs and lead to patents and spin off companies, as well as provide significant benefits to the medical treatment all Australians receive."
The ARC Training Centre for Green Chemistry in Manufacturing will led by the School of Chemistry's Professor Antonio Patti, who has assembled a consortium of leading expertise in Green Chemistry across Australia, through the partnership involving Flinders, Deakin and Curtin universities.
Mr Patti said the Centre will be at the forefront of new innovation in environmentally-friendly and green chemistry, providing postgraduate students and post-doctoral fellows with industry-relevant skills to give them the confidence to lead the Australian manufacturing industry towards adopting green and sustainable technologies.
"New innovations based on green chemistry principles applied in Australian manufacturing will provide technical and professional training for researchers in this space, and lead to new products and processes with strong export potential," Professor Patti concluded.
Image credit: https://www.monash.edu/news