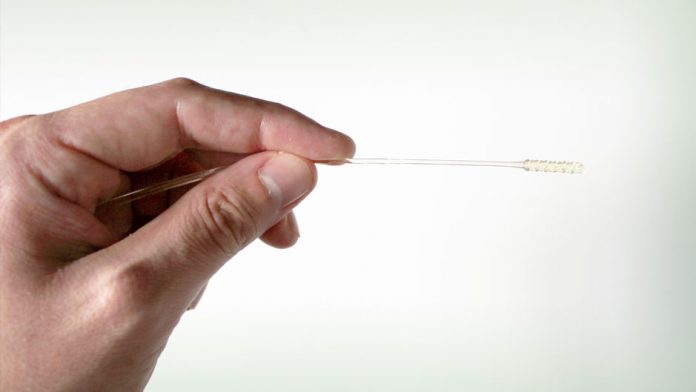 A team of engineers and architects from the University of Miami has used additive manufacturing to produce nasopharyngeal swabs used in coronavirus testing. The team is awaiting FDA approval to mass-produce the swabs, in hopes of allaying fears that supplies of the highly specialized swabs might once again run low.
According to news from the university, the researchers are in the "homestretch of an ambitious project to 3D-print 1,000 nasopharyngeal swabs a day". This will help to maintain the stocks in tens of thousands of hospitals, community health clinics and drive-thru testing sites.
"As the virus started to gain a foothold locally and around the country, we knew that nasopharyngeal swabs would be in high demand and that the supply would start to run low," said Professor Ramon Montero, from the biomedical engineering department at the College of Engineering. "We also knew we had the 3D-printing technology to produce them. It was just a matter of working with our doctors to make sure we designed what they needed."
The 3D printed nasal swab had to undergo a redesign in order to be more rigid since the first design that Prof. Montero came up with in late March was too flexible. The team ended up designing a swab that was stiffer and included small holes at the tip to facilitate specimen collection.
In order to sterilise the instruments they use an autoclaving process which subjects the swabs to temperatures reaching 121 Celsius for 30 minutes. Plastics are generally unable to withstand intense sterilisation, so Prof. Montero used a type of polymer that is used surgical procedures and catheter placements.
"Our goal is to produce 1,000 swabs a day using as many as three 3D printers," said Maxwell Jarosz, architect and manager of the fabrication lab and model shop at the School of Architecture, where many of the prototype swabs have been printed.
The swabs are already at the trial phase and have already been tested on manikin and cadaver heads. The next phase is testing on humans, for which the team needs FDA approval.
As the Covid-19 pandemic disrupted the global supply chain of essential medical and protective equipment, many organisations and 3D printing companies have stepped up their response to help the shortages by shifting their research and focus to manufacturing of personal protective equipment, face shields, ventilator parts and nasal swabs.
Read the full article on the University of Miami website.