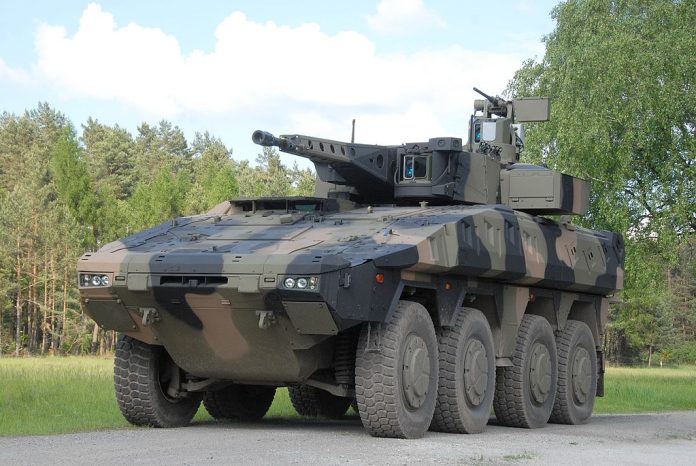 The Victorian State Government is backing BAE System Australia's bid for the multi-billion LAND 400 Phase 2 manufacturing contract that could end up creating thousands of jobs across the state.
BAE Systems, which is competing for the $5 billion defence project with Rheinmetall Defence, has committed to producing the AMV35 at the old Holden factory in Melbourne and has already teamed up with a number of local manufacturers to sweeten their bid.
The company has contracted defence supply chain company Marand to build the hulls and turret shells for the new vehicles, and has also approached MOOG Australia, Motec, AME Systems, RUAG Australia, DVR Engineering and APV to build vehicle components for LAND 400.
Marand intends to use part of the Ford factory to manufacture the vehicle components, should BAE Systems Australia win the contract.
Minister for Trade and Investment Philip Dalidakis, who visited Ford's former Geelong site to inspect the BAE Systems Australia's AMV35 vehicle and to meet Marand workers, said a successful BAE bid would create up to 2,000 manufacturing and supply chain jobs in Victoria.
"Billions of dollars in investment and thousands of jobs – that's what LAND 400 means to Victoria," the Minister stated.
"This is a golden opportunity for the Turnbull Government to give certainty to our manufacturing sector and support new supply chain jobs in Geelong and right across Victoria."
Minister for Industry and Employment Ben Carroll said Victoria had the workforce, the expertise and the supply chain to build next-generation vehicles for the Australian Army.
"We need the Turnbull Government to bring this work to Victoria and create thousands of opportunities for workers leaving our automotive sector."
A final decision on which manufacturer is awarded the contract will be made by the Commonwealth next year.
Image credit: Graham Robson-Parker (Creative commons)