The Australian Workers' Union (AWU) has called on the winners of the ACT Government's wind energy contract auction to commit to using Australian steel for the new wind farms.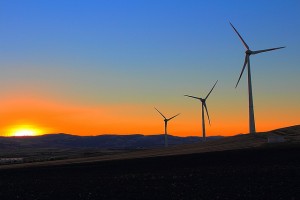 AWU National Secretary Scott McDine commended the ACT Government for investing in the energy infrastructure, and said the production of Australian steel adhered to high standards on energy efficiency, as well as supporting thousands of jobs.
"The announcement today of new wind farms in Victoria and South Australia to generate clean energy for the ACT is an excellent development for Australian jobs. These are very significant infrastructure builds at a time when the economy could use the boost," Mr McDine said.
"These new builds provide a terrific opportunity for a win-win for Australian jobs, as long as Australian steel is used in their production. That way we will see jobs created through the construction and maintenance of these wind farms, as well as in the production of the steel required to build them.  It would be a great shame if a bold environmental initiative like this one was compromised through the use of Chinese or other foreign steel, which is not produced with adherence to the strong environmental standards of Australian steel."
Three wind farm companies have been awarded lucrative contracts in the ACT Government's wind energy auction aimed at helping power the Australian Capital Territory (ACT).
Victorian-based Windlab Systems and RES were two of the three successful bidders at the ACT Government wind farm auction, which envisages building wind farms near Ararat and in Bendigo in Victoria and another near Port Augusta in South Australia.
ACT's first power auction received 18 proposals from 15 proponents, with successful bidders expected to deliver 200 megawatts of wind energy to the ACT, enough to power 107,000 homes, or about a third of the city's needs. Once operational from 2016, the new wind capacity will reduce the ACT's greenhouse gas emissions by around 8.5 million tonnes over the first 20 years of operation.
Windlab Systems is an Australian owned renewable energy company and the first renewable energy project in the country with an ownership structure that includes the local farming community, whereas RES has been leading the field in wind energy development worldwide for more than 30 years.