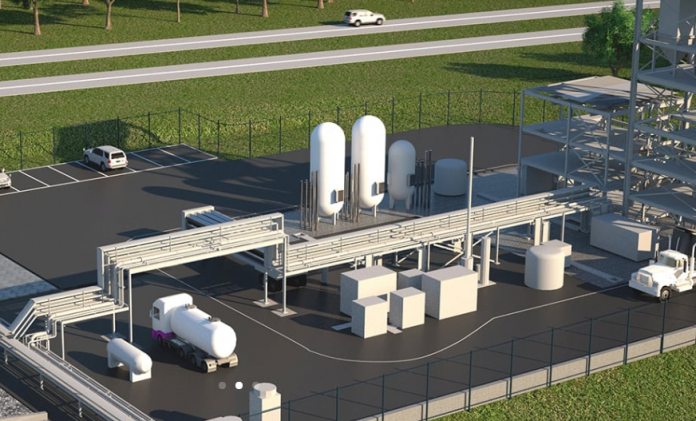 Work has commenced on Australia's first hydrogen liquefaction facility that is expected to create hundreds of jobs in Victoria.
Located at Port Hastings in Victoria, the Hydrogen Energy Supply Chain (HESC) is a world-first pilot project to safely and efficiently produce and transport clean hydrogen from Victoria's Latrobe Valley to Japan.
The project is being developed by a consortium of Japan's top energy and infrastructure companies, including Kawasaki Heavy Industries, J-Power, Iwatani Corporation, Marubeni Corporation and AGL, with KHI and Iwatani leading the build at the Port of Hastings.
It will turn brown coal from the Latrobe Valley into hydrogen, which would then be liquefied and shipped to Japan for use in fuel cell electric vehicles and power generation.
Minister for Economic Development Tim Pallas, who joined the Kawasaki Heavy Industries Global Chairman Shigeru Murayama at the Port of Hastings to mark the beginning of construction of the facility, said the project could make Victoria a world leader in the fast-growing hydrogen industry, which is expected to be worth $1.8 trillion by 2050.
"The hydrogen economy has the potential to be an important future sector in Victoria with the Hydrogen Energy Supply Chain Pilot Project providing an opportunity for Victoria to lead the global emergence of this industry," the Minister said.
"The commencement of construction on Australia's first hydrogen liquefaction and export facility begins Victoria's quest to become a global leader in hydrogen."
Minister for Trade, Tourism and Investment Simon Birmingham said the project has the potential to create $2 billion in exports for Australia.
"This pilot project is the first step in creating a commercial scale hydrogen supply chain which could lead to billions of dollars in export earnings for Australia and help Japan meet its strategic energy targets for 2030 and beyond," Minister Birmingham said.
"As global demand for hydrogen continues to grow, strategic investments such as this one have the potential to turn Australia into a major global exporter of hydrogen, particularly to countries such as Japan and South Korea.
"Australia has long been a reliable supplier of energy needs and there is no doubt that we are uniquely placed to continue to meet those global needs by becoming a leader in hydrogen energy. Future commercial scale operations in the Latrobe Valley and around the country will help transform Australia into a hydrogen powerhouse, delivering significant economic benefits and thousands of extra jobs for Australians."
Chairman of the Board of Kawasaki, Mr Shigeru Murayama said: "Delivering clean hydrogen to the world for the benefit of our environment is a goal we share deeply and we look forward to achieving."
Image credit: https://hydrogenenergysupplychain.com