The Australian Made Campaign is calling on sports organisations to show stronger support for Australian-made uniforms, as Australia celebrated the 30th anniversary of its America's Cup victory on Thursday.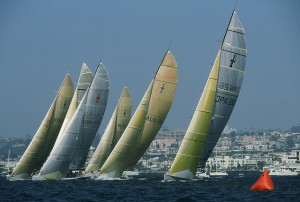 The 1983 America's Cup was won by the Australian syndicate representing the Royal Perth Yacht Club. Skipper John Bertrand and the rest of his crew in Australia II ended the winning streak of the New York Yacht Club which had successfully defended the cup for 132 years.
Australian Made Campaign Chief Executive Ian Harrison said the celebration was a timely reminder for sports organisations to consider sourcing their uniforms from Australian manufacturers. Memorabilia were displayed to commemorate the victory of the sailors who wore uniforms produced by Victorian knitwear manufacturer Hysport. The company still manufactures knitwear in Australia.
"Australia has some of the highest manufacturing standards in the world, so we are perfectly capable of meeting the requirements of our elite athletes – there is no excuse," Mr. Harrison said in a media release.
"At a time when it is clear that consumers, even Government, are placing more importance on buying Australian-made, it is disappointing that so few organisations have local procurement policies in place."
A recent study conducted by Roy Morgan found that only 20 percent of Australian businesses have a firm policy for buying Australian-made goods wherever possible. These findings have prompted the Australian Made Campaign to call on businesses to revisit their procurement policies.
The research also found that 34 percent of firms had neither a policy nor a preference for buying Australian-made goods, with the top three reasons being Price (21%), Lack of Availability (20%) and Value (14%).
"We recognise the need to keep costs down, but we urge organisations to consider local alternatives – products made and grown in Australia to our high quality, health and safety standards offer genuine value," Mr. Harrison said.
"On this 30th anniversary, congratulations again to the winning Aussie team, to Hysport and to Australian manufacturing."