Alcoa's latest armor product, the Alcoa's ArmX 5456-H151, has now been specified for use in US military vehicles by the US Army Research Lab (ARL), the aluminium producer announced via a media release on Thursday.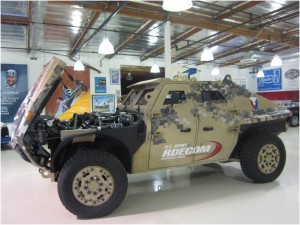 The armor plate, formerly referred to as CR56, meets the US military's highest performance standards for strength, blast absorption, and ballistics resistance for armored combat vehicles.
"Alcoa's military-grade aluminum alloys and products have helped the U.S. military protect troops for generations," said Mark Vrablec, President of Global Aerospace, Transportation and Industrial Rolled Products at Alcoa.
"Alcoa's latest innovation allows military vehicle manufacturers to continue building with the highest level of durability and troop protection through welding processes when assembling the vehicle, or performing repairs in the field."
Alcoa's aluminum and armor products have been used by the military for years in vehicles like the Bradley Fighting Vehicle and the Humvee, where weldability is a material requirement. The 5456-H151 armor plate has been tested and demonstrated on the US Army's Fuel Efficient Ground Vehicle Demonstrator vehicle also known as FED ALPHA. The FED ALPHA is a prototype vehicle that the company had helped develop to demonstrate lightweight, fuel-efficient technologies while maintaining vehicle durability and troop safety.
"This new product offers more than 20 percent improvement in strength compared with the baseline 5083-H131 weldable armor plate, as well as improved ballistic and blast performance," added Vrablec.
The 5456-H151 armor plate was developed by scientists at the Alcoa Technical Center in Pittsburgh, in collaboration with metallurgists and production engineers at Alcoa Davenport Works, the world's premier aerospace, defense, and automotive rolling mill. The armor plate will be produced at Alcoa Davenport Works where manufacturing and quality control testing is conducted to ensure the military's highest specifications for weldable aluminum armor plate are met.
The announcement about the 5456-H151 armor plate follows news that Alcoa reported a return to profitability at its smelting business and that its unit which makes auto and aerospace parts showed improved results.
The engineered products division, a supplier of aerospace companies such as Boeing Co. and Airbus SAS, saw after-tax operating income rise 22 percent to $192 million, while the primary metals business earned $8 million, according to Bloomberg.