This year's Premier's Sustainability Awards have seen Victoria Carpets from Dandenong and Moonee Valley City Council collect top honours at the event held on Tuesday.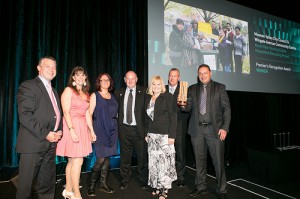 Victoria Carpets received the inaugural Premier's Regional Recognition Award, whereas Moonee Valley City Council won the Premier's Recognition Award, according to the media release from the Premier of Victoria.
Victorian Minister for Environment and Climate Change Ryan Smith handed the award to Victoria Carpets on behalf of the Premier, who is currently on a trade mission to China and Japan.
In a report from Weekly Times Now, Sustainability Victoria chief Stan Krpan said recent energy assessments on Victoria Carpets' Bendigo wool mill highlighted high energy use in lighting and heating.
"After extensive testing, all factory lighting was upgraded to LED technology, resulting in 550,000 kWh reductions in energy. Older heaters were replaced with new technology, resulting in a 6,000 gj reduction in gas usage. These are great examples of resource productivity and its opportunities for Victorian manufacturing," said Mr. Krpan.
Meanwhile, the Premier handpicked Moonee Valley City Council for the award in recognition of their contribution for introducing recycling to public housing residents.
The Premier's Sustainability Awards are Victoria's highest recognition for sustainability, and acknowledge leadership, creativity, innovation and achievement.
"The winners are deserving recipients and showcase the exemplary sustainability work lived out in their daily lives by thousands of Victorians all over the state," said Mr. Smith.
"Our finalists are world class. I'd like to thank every organisation who entered the awards and who highlighted their actions to reduce the environmental impact on Victoria."
Winners of the Premier's Sustainability Awards 2013:
Innovative Products or Services Award – ModWood Technologies for development of Flame Shield®, a wood-plastic composite for building in bushfire areas;
Infrastructure and Buildings Award – RMIT University for their Swanston Academic Building, a progressive tertiary learning environment;
Environmental Protection Award – Mallee Catchment Management Authority for their project Restoring The Balance, in the drought-riven Hattah Lakes;
Education Award – Bentleigh Secondary College, a world recognized sustainable school;
Small and Medium Enterprises Award – Rae-Line for embedding sustainability practices in manufacturing soft trim components for trucks;
Large Business Award – Victoria Carpets for their work in energy and emissions reduction in their Bendigo plant;
Community Award – Moonee Valley City Council and Wingate Avenue Community Centre for taking recycling to public housing residents;
Premier's Regional Recognition Award – Victoria Carpets; and
Premier's Recognition Award – Moonee Valley City Council