ATCO Structures & Logistics Pty. Ltd (ATCO) has officially opened its new modular manufacturing plant in Perth, expecting to create 100 new jobs in the Kwinana area within the first three years of its operation and bringing the total number of its manufacturing facilities in Australia to six.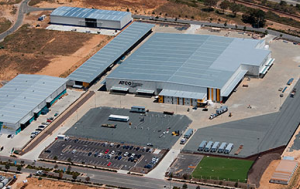 According to the media release from the company, Latitude 32 Industrial Zone in the city of Kwinana was the chosen site for the 150,000 sq. ft. (~14,000 sq. m.) plant due to its proximity and access to distribution networks including road, rail and port. It also has the capacity to draw on an established supply chain infrastructure and workforce which would help ATCO's future growth.
Adam Beattie, Managing Director, ATCO Structures & Logistics Pty Ltd, says the new modular plant will help the company meet the market's growing demand.
"The Kwinana plant will expand ATCO's manufacturing capacity in Australia and help us meet the growing demand for our products and services in the country, especially for large scale liquefied natural gas (LNG) and mining infrastructure projects," said Mr. Beattie.
"We see great opportunity in Western Australia and are committed to the region for the long term. ATCO will work with the local community to hire skilled trades people and production workers, ensuring that the Kwinana area fully benefits from ATCO's presence."
ATCO Structures & Logistics manufactures, leases and sells modular buildings with more than 65 years experience in providing complete infrastructure solutions to customers worldwide. The plant in Kwinana currently manufactures modular units for the Wheatstone Project. This is the fourth major contract that was recently awarded to ATCO that supports LNG projects in Australia. The other three projects were large workforce housing projects for LNG facilities on Curtis Island which provided more than 6,000 beds for workers constructing LNG terminals.
Aside from the announcement of the new plant, the company also announced on Thursday its new partnership with the City of Kwinana that will support the council's National Aboriginies and Islanders Day Observance Committee (NAIDOC) celebrations. The partnership demonstrates ATCO's commitment to the communities where it operates and the celebrations will focus on promoting and increasing cross-cultural understanding of the city's large Indigenous population.