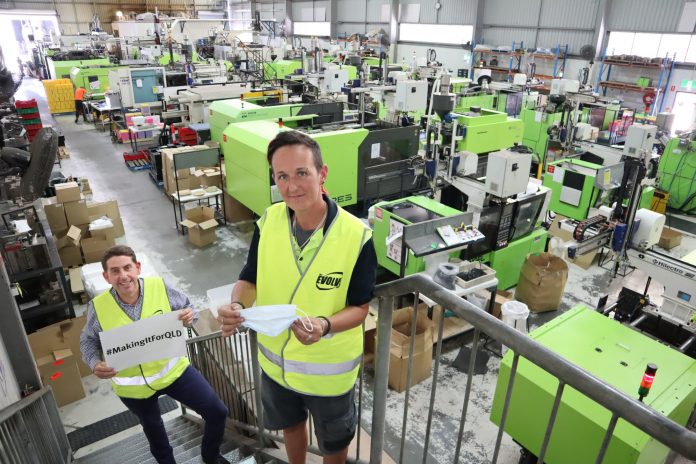 The Logan-based Evolve Group has inked a $1.2 million contract with the Queensland Government to urgently start producing disposable N95 medical masks in high volume.
The company will manufacture 60,000 N95 face masks each day at their Crestmead facility as Queensland manufacturers are stepping up to the challenge to provide essential products for health workers and communities in response to the coronavirus.
Premier Annastacia Palaszczuk said the agreement with Evolve Group will ensure that Queensland has 'priority access' to its own manufactured supply of urgently needed face masks to support frontline health workers and the broader community.
"We can and we must make these lifesaving products in Queensland," the Premier added.
"We are prepared to back our manufacturers with long term offtake agreements to ensure they keep manufacturing them here.
Minister for Manufacturing Cameron Dick said Queensland Health and the Department of Housing and Public Works have agreed to purchase masks from Evolve Group for a three-year period to support the health system.
"Evolve is a great Queensland manufacturing story, and today's announcement could see around 60,000 N95 face masks manufactured each day to help meet the ongoing need for personal protective equipment," Mr Dick continued.
"This will support workers in health, community support, mining, construction and food processing.  All going well, we are aiming to have the first batch produced within eight weeks.
"The Queensland Government is supporting Evolve Group to secure the equipment and raw materials of two automated face mask manufacturing lines to get us up and running."
Evolve Group's Managing Director Ty Hermans said the company was proud to be able to rise to the challenge of combatting COVID-19.
"We have always prided ourselves on our ability to design award-winning products and rapidly solve complex engineering challenges, but this is certainly our most important project – something we have been training for since we started our reshoring mission back in 2006," Mr Hermans said.
"We are proud of our ability to apply our Queensland-based advanced plastics manufacturing facility and skills to a mission-critical project like this, supporting our frontline medical teams and others that are sacrificing so much right now.
"Securing supply of critical products like this by reshoring the manufacturing in Australia has to be a priority for all Australians now and into the future. Being Australian-made also ensures the production of high-quality products."
Image credit: http://www.evolvegrp.com/news/