The Australian Made Campaign is urging shoppers to support domestic produce by seeking out and buying homemade products that contain the Australian Made, Australian Grown logo this Christmas.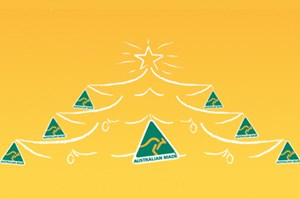 Australian Made Campaign Chief Executive Ian Harrison said buying local products with the Australian Made logo will not only provide support for the Australian industry, but will also ensure that the consumers would be getting quality products of genuine Australian origin.
"Our latest research shows that now more than ever, buying local is important to Australian consumers, because they are more aware of the quality, health and safety benefits, and the impact on local jobs, industry and the community," said Mr. Harrison.
"The Australian Made, Australian Grown logo provides assurance to shoppers that what they are buying is genuinely Aussie."
According to the news release featured on the Australian Made Campaign website, the logo is Australia's only registered country-of-origin certification trade mark for Australian goods. It has been around for nearly three decades and has been providing consumers with a readily recognisable and trusted symbol for Australian products and produce ever since.
"Every dollar spent on locally made and grown products this Christmas will have a direct impact on the livelihoods of our growers and manufacturers, and on the standard of living of the wider community," Mr. Harrison said.
The Australian Made campaign also encourages consumers who are planning on shopping online during the festive period to visit the product directory at www.australianmade.com.au, where they can be certain to find locally made and grown products.
All the products displayed on the webpage are certified, and are either manufactured, processed or produced in Australia.