The world's leading aluminum producer Alcoa has developed a proprietary surface finishing technology that allows companies to use aerospace-grade aluminum in making mobile devices.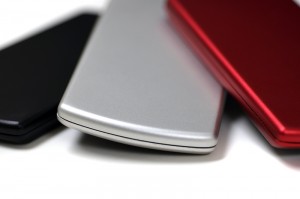 Alcoa's new ProStrength™ Finishing Technology is a process that allows mobile device manufacturers to design clear or color-anodized durable surfaces utilizing high-strength, heat treatable aluminum alloys for mobile devices, making them thinner, lighter and stronger. The high strength alloys reduce the thickness and weight of the device by more than 50 percent, according to the Alcoa media release.
"Consumer electronics makers had been exploring ways to create beautiful anodized finishes on aerospace-grade aluminum alloys because they are among the strongest, yet lightest metals available," said Ray Kilmer, Executive Vice President and Alcoa Chief Technology Officer.
"ProStrength's anodized finish creates the metallic look and feel that consumers prefer, and the high-strength aluminum allows manufacturers to produce thinner, lighter, and more durable enclosures."
A recent survey conducted by Accenture found that consumers value device size and design look when purchasing consumer electronics.
"Being able to use aerospace-grade alloys promotes the growing trend for ever thinner and lighter mobile devices," said  Leighton Cooper, Director of Technology at the Alcoa Technical Center.
The ProStrength™ Finishing Technology was developed at the Alcoa Technical Center, the world's largest light metals R&D facility located outside Pittsburgh. Alcoa has worked with the world's leading consumer electronic (CE) companies and designers to enable the use of aluminum in mobile devices. According to the company, "aluminum's penetration in the CE market has grown as OEMs look to its aesthetic qualities, light weight and ability to dissipate heat, all of which enhance the durability, performance and attractiveness of devices for consumers."