The Australian Made Campaign has urged Australian consumers to 'Make Every Day Australia Day' and buy Australian made delicious food and high quality products throughout the month of January.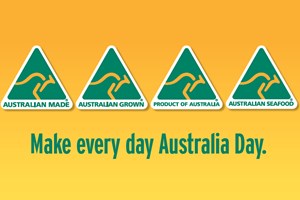 According to the news release published on the Australian Made official website, Australian Made Chief Executive Ian Harrison said the initiative was aimed at bringing closer together the great Australian traditions with Australian-made and Australian-grown products.
"Our research shows purchase preferences are evolving towards locally made and grown products, and the 'Make Every Day Australia Day' initiative encourages consumers to keep those behaviours up, and put particular emphasis on shopping local in January – and beyond wherever possible," Mr Harrison said.
"When you buy genuine Aussie products, you back Aussie farmers and manufacturers, so not only are you getting great value for money, you're also giving local industry a much-needed leg up."
Mr Harrison reminded consumers to look for the green-and-gold Australian Made Australian Grown (AMAG) logo to make sure that the products they are buying are truly Aussie- made Aussie-grown.
"Be sure to check your labels and shop around," Mr Harrison said.
"Aussie flags, snags, prawns – these are just a few examples of things you might assume were sourced locally, but which are often imported."
The AMAG logo is the only registered certification trade mark for country-of-origin claims and products that aspire to use it must undergo strict evaluation processes and meet certain criteria to receive the right to use it.
The "Make Every Day Australia Day" campaign will run nationally throughout January.