One of the toughest challenges every company faces is finding a way to create more output with less input. To achieve maximum resource efficiency, Siemens has developed unique manufacturing methodology of supporting industrial manufacturing in its entirety, which has resulted in efficient product development and production process, as well as in energy and resource efficiency.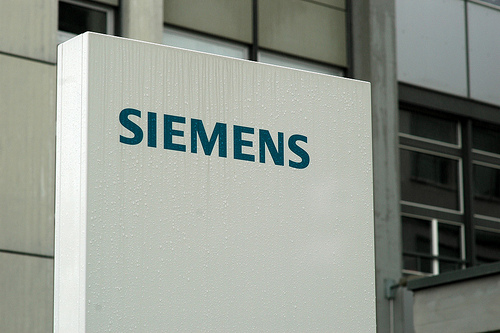 Siemens provides top grade products, solutions and services to create ideal platform for systematical and improved energy-efficient production, which offers further possibilities to achieve advancement in competitiveness, energy-efficient production and better energy management. This is only possible when all components work together harmoniously. The company's end-to-end developing techniques, automation technology and services help achieve maximum energy efficiency, increased productivity and competitive edge over its competitors.
According to the article on Siemens, the company is now implementing its PROFIenergy concept at Daimler AG to achieve energy-efficient production. PROFIenergy is a PROFINET-based data interface that allows all or part of the equipment in an efficient production network to be powered down to energy-saving states during idle times. By implementing its PROFIenergy at Daimler, Siemens has significantly managed to reduce energy consumption and carbon dioxide emissions per unit produced.  As a result of these PROFIenergy-initiated break periods, the automotive manufacturer has reduced its production costs without slowing down production.
The Gral brickmaking plant in Alfonsine, Ravenna, is another example for achieving successful resource efficiency. Siemens' SinaSave software is one of the reasons this plant is now considered to be the most modern and efficient brick production facility in Italy. By utilizing Siemens' software solution, the company's energy and production efficiency goals were achieved thanks to highly efficient asynchronous motors that comply with future EU regulations. SinaSave enabled the company to calculate the savings of these highly efficient IE2 motors. The result showed that the additional costs for highly efficient motors would be amortized quickly, and the expected savings would lead to a noticeable reduction in costs over the motors' entire service life.
Volkswagen has purchased a crane system with Siemens software for its press store in Hannover, Germany. The new crane system has the ability to increase productivity and productive efficiency while consuming 30% less energy than the old one. In light of the growing scarcity of resources and with continual surges in the cost of energy, every company, even those in less energy-intensive sectors, is turning its attention to energy efficiency, as every kilowatt hour counts.  For the crane system, Siemens used the Simocrane automation platform and created a customized software package specifically for Volkswagen. Based on the Siemens products SIMOTION, SINAMICS, and SIMATIC, this solution comprises function modules that cover all tasks involved in operating a crane travel gear, a trolley drive, and two lifting gears.