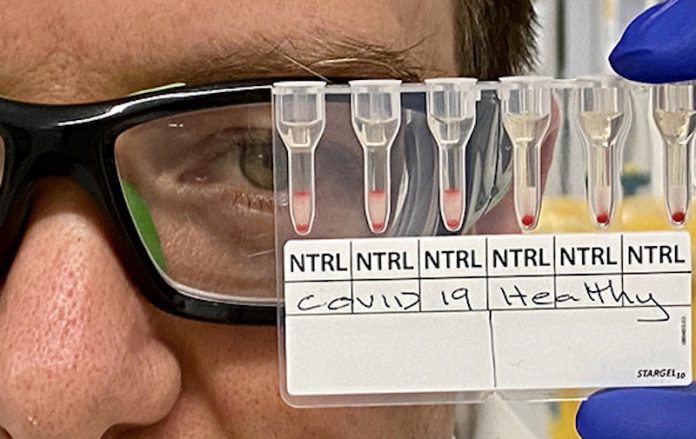 Researchers from Monash University have developed a blood test that could detect whether someone has contracted COVID-19, offering a breakthrough that could augment the government's efforts in contact tracing and limiting community transmission of the virus.
According to news from the university, the simple assay is based on commonly used blood typing infrastructure. The simple agglutination assay is able to detect the presence of antibodies raised in response to the SARS-CoV-2 infection. Positive COVID-19 cases cause an agglutination or a clustering of red blood cells, which is easily identifiable to the naked eye within 20 minutes.
This means that the test can tell whether someone had been recently infected once the infection is resolved. On the other hand the swab or PCR tests are used to identify people who are currently positive with COVID-19.
The research team is led by BioPRIA and Monash University's Chemical Engineering Department, and also includes researchers from the ARC Centre of Excellence in Convergent BioNano Science and Technology (CBNS).
Dr Simon Corrie, Senior Lecturer in Chemical Engineering at Monash University and Chief Investigator in the CBNS, said the findings were exciting for governments and health care teams across the world in the race to stop the spread of COVID-19. He said this practice has the potential to become upscaled immediately for serological testing.
"Detection of antibodies in patient plasma or serum involves pipetting a mixture of reagent red blood cells (RRBCs) and antibody-containing serum/plasma onto a gel card containing separation media, incubating the card for 5-15 minutes, and using a centrifuge to separate agglutinated cells from free cells," Dr Corrie said.
"This simple assay, based on commonly used blood typing infrastructure and already manufactured at scale, can be rolled out rapidly across Australia and beyond. This test can be used in any lab that has blood typing infrastructure, which is extremely common across the world."
In a simple laboratory set up medical practitioners could use the test on up to 200 blood samples an hour. Hospitals with high-grade diagnostic machines could process more than 700 blood samples hourly, or about 16,800 each day.
A patent for the innovation has been filed and researchers are seeking commercial and government support to upscale production.
The Department of Health has reported that as of July 16, a total of 3,287,716 COVID-19 tests have been completed all throughout Australia, with 0.3% positive cases.
Read the full report from Monash University here.
Image credit: Monash University