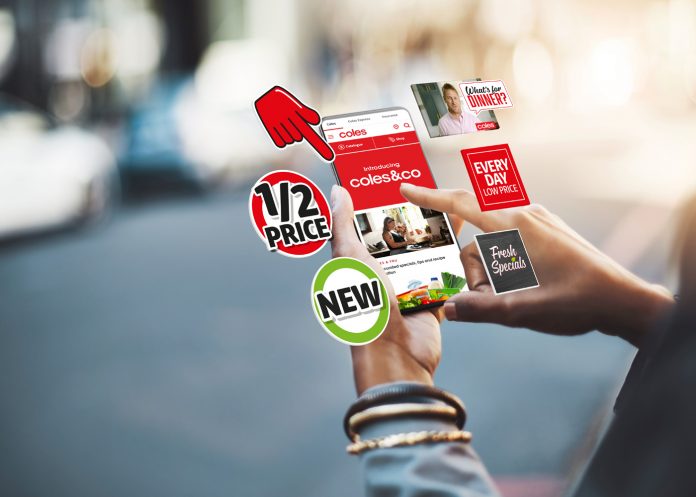 Coles has announced that it is launching 'coles&co' on Thursday, a brand new digital channel that promises to provide customers with daily online shopping inspiration and exclusive content. The shift to digital communications has also prompted the supermarket chain to cease the distribution of its weekly catalogue that is currently printed and delivered to 7 million Australian households. 
In a media release on their website Coles Group CEO Steven Cain said they have seen a shift to online shopping in the last few months due to COVID-19 as many of their customers have tried their contactless home delivery and Click&Collect services for the first time. There has also been an increase of more than 50% in readership for their digital catalogue since March.
"We are living at a time of unprecedented societal change, including a surge in the diversity  of consumer tastes and dietary needs. As customers add more fresh food to their diet they're shopping more often, and their appetite for immediacy and digital information means a weekly, one-size-fits-all, catalogue in their letterbox is no longer as relevant for them as it once was."
"We're using our digital capabilities to replace it with something more personalised. As we add new features, this could include recipes that change daily rather than weekly, as well as tailored content on food and drink trends."
"We will be investing more in digital content and capability for customers and suppliers, as well as better value by lowering the cost of breakfast, lunch and dinner, and improving our sustainability by reducing our reliance on paper."
IVE Group, the marketing company that distributes the weekly catalogue, has also addressed the news via a statement on ASX, saying the scaling back on printed catalogues is expected to reduce the company's revenue by approximately $35-40 million per annum.
"IVE moved quickly at the outset of the COVID-19 pandemic with a range of initiatives in response to revenue volatility and the risk of negative impacts to revenue in the short to medium term. These initiatives place the Company in a stronger position to mitigate the impacts of revenue declines."
"The Group remains committed to supporting the continued strength of the printed catalogue as an important component of an integrated communications mix to a diverse national consumers base."
Meanwhile Mr Cain said ceasing the delivery of printed catalogues would save over 10,000 tonnes of paper every year – the equivalent of an estimated 80,000 trees.
"We're committed to being Australia's most sustainable supermarket and reducing our reliance on paper by prioritising digital channels like coles&co is a significant step towards that goal," Mr Cain said.
Customers can access coles&co at coles.com.au beginning Thursday, where they can also sign up to unlock new exclusive content and previews of weekly specials.
Image from Coles Group Website