A new range of "lunchbox friendly" muesli bars has been developed by Nestle Australia to conform with school nut management policies.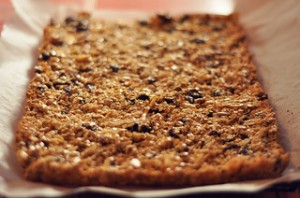 The new "lunchbox friendly" muesli bars do not contain nuts as an ingredient and the production plant where they come from does not handle or process nuts. The muesli bars are in response to consumers calling for a product that can be taken to school.
According to the Australasian Society of Clinical Immunology and Allergy (ASCIA), Australia and New Zealand have among the highest prevalence of allergic disorders in the developed world. In 2011, there were 9,000 new cases of peanut allergy. Peanut and tree nut allergy is most common in infants, but may appear for the first time in adults. It causes more problems than other food allergies because it is common (1 in 50 infants), exposure is hard to avoid and in some cases even trace amounts can trigger symptoms.
Symptoms include wheezing, trouble breathing, stomach ache, hives, swelling, and drops in blood pressure, among others.
Development of the "lunchbox friendly" muesli bars has been an extensive process which included the removal of nuts from muesli bar recipes and factory. The factory was shut down for a week during which equipment was pulled apart for intensive cleaning.
Nestle Australia also worked with its suppliers to understand where their products are sourced and if there has been potential contact with nuts. The food company also worked with charity Allergy and Anaphylaxis Australia to arrive at the best way to advise schools and communicate the change on-pack.
While Nestle and A&AA have developed the new product so that it can be brought safely to the playground, both admit that they should not be eaten by anyone with a nut allergy.
"While we have done everything we reasonably can to reduce risk for people with nut allergy, we can't be completely certain that any of our ingredients haven't been in contact with nuts somewhere in storage or transport before they reach us. For this reason, we can't recommend our muesli bars for people with nut allergies," said Nestle in their press release.
Several doctors and parents have voiced out their opinions regarding the product, with some saying it just employs a new marketing tactic.
"I'm confused, and I work in the industry," Sydney paediatric allergist Elizabeth Pickford said, quoted in report on the Sydney Morning Herald. "I think the 'lunchbox friendly' labelling is really deceptive. Mums are going to think this is a safe product when they see it."
"Why would A&AA encourage kids to take nut products into school at all when there are plenty of nut-free snacks available?" wrote Nicole Krasic, a mom from Geelong.
"I'm all for education about allergies, but the [announcement] is simply Uncle Tobys marketing a product that 'appears nut free' and a way to ensure they can still sell products to kids. I'm disappointed that A&AA would support such an idea."